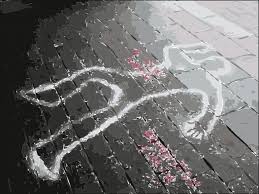 FIVE murders between Thursday and yesterday, have sent the country's murder rate skyrocketing to 186, with an unbelievable 19 being committed within the last seven days. Among the five latest victims are a 69-year-old woman, two teens, a roadside preacher and a man who was ambushed and gunned during a payroll heist yesterday.
Within the past seven days, seven murders were committed on Friday May 13 (Black Friday); three on Saturday May 14; two on Sunday May 14; two on Monday May 15; four on Thursday May 19 and one murder was committed yesterday, May 20, up to presstime.
The latest criminal shedding of blood took place at 10 am on Thursday when 69-year-old Christal Ramlochan, described by her daughter CNMG news presenter Verna Bharath as a "gentle and loving mother", was found dead in some bushes along a gravel road off the M2 Ring Road in La Romaine. An autopsy conducted yesterday showed that the elderly woman, who left home to pay bills in San Fernando, was bludgeoned to death.
TEEN MAN SHOT DEAD The second murder took place at 7.30 pm on Thursday when a 19-year-old man was shot dead while taking a cigarette break after installing a water tank at a Rio Claro estate. Akeem Phandorie of El Guanapo Estate Road in Rio Claro was with his friend Kevin Jarvis, also of Rio Claro, installing a water tank at a property when Phandorie said he wanted to take a smoke break.
Minutes later, rapid gunshots rang out and Phandorie slumped to the road having been shot in the chest and head. He died at the scene. Jarvis who was shot to the left leg and right arm was rushed to hospital and treated. ASP Nisha, Insp Wayne Doodai and others visited the scene.
Phandorie's father Dowlin Victor yesterday admitted his son was not the best person in the world but added no one deserves such a death. "Everyone has a good side and a bad side. You can be easily influenced by people around you.
I never saw him do anything contrary," Dowlin said. No arrest has been made.
TEEN GIRL SHOT DEAD Fifteen minutes after Phandorie was gunned down, 18-year-old Jameeila Wilson collapsed on the floor inside a house in Rio Claro after being shot multiple times. She bled out on the floor, dying before anyone could come to her assistance.
Grieving mother Anastasia Wilson yesterday said her daughter was a "troubled child" who had ran away from home two years ago.
"She didn't want to listen, so she ran away from home. That was in 2014 and the first time I got any word about her was on Thursday when I received a call saying that she was dead. She was shot," Wilson said. Police said that at about 7.45 pm on Thursday, Wilson who recently turned 18 and originally hailed from Pinto Road, Arima, was standing outside her home at Hercules Avenue in Rio Claro.
Gunmen approached and without warning, shot her multiple times. She ran into the house, collapsed and died. The killers ran off.
Snr Supt Nazrool Hosein, Insps Ramphal and Ramkhelawan, Sgt Corrie, WPC Bickram and others visited the scene. An autopsy yesterday confirmed death was due to multiple gunshot wounds. s.
Police are working on the theory that the shooting was gang related, but Anastasia Wilson, who spoke to reporters at the FSC, expressed pain and disappointment after being told by police that her daughter, whom she had not seen in years was shot dead by unknown gunmen.
Wilson said her daughter grew up in Miami but was sent to Trinidad at age 13 after being deemed unruly by relatives in the US. "And from then, things just went from bad to worse," Wilson said.
DEATH OVER RELIGION The bloodshed continued Thursday night when at half past eight, Clint Julien, a 36-year-old Arima roadside preacher was stabbed to death during a fight over religion.
Police said that Julien of Marie Avenue, Maturita was among five members of the Jehovah's Witness faith who were preaching at the side of the road near Golden Grove Junction in Arouca.
Two men, of a different faith, did not like the preaching and an argument arose. The two threatened violence and the five Jehovah's Witness followers ran off with one of the two men grabbing on to Julien and stabbing him in the stomach.
Julien continued running but collapsed a short distance away. He died on the roadside. No arrest has been made and detectives are continuing investigations. The killer has not yet been arrested.
DEADLY PAYROLL HEIST The final murder, in this spree, took place yesterday when the brother of a soldier was shot and killed during a payroll heist in Couva.
Nicholas Vespry, 40, a company foreman of Union Village, Claxton Bay was killed by a gunman who later made off with an undisclosed sum of cash Vespry was taking to pay workers at a jobsite.
The victim's brother TT Regiment Cpl Curtis Vespry who is also a pastor, was called to identify the body. The victim's sister-in-law Vanessa Vespry said, "The Bible tells you that perilous times will come and we are seeing this. They say men's hearts will wax cold and we are seeing it come to pass…they don't care about anyone anymore." Vespry was driving his Nissan Almera car along Railway Road in Couva near the NALIS Library when his vehicle was struck from behind by a white AD wagon. Police said Vespry got out to check the damage to his car when the other driver walked up and shot him.
Another man relieved Vespry of the payroll before the two got back into the stationwagon and drove off.
(Additional reporting by RYAN HA MILTON-DA VIS)
7 DAYS, 19 MURDERS
FRIDAY MAY 13
* Lloyd Ramkissoon, 47, shot dead
* Ryan Ramkissoon, 19, (Lloyd's son)
shot dead in same incident
* Ryan 'Daewoo' Hercules, 39,
shot dead in Enterprise
* Abdel John, 31, shot dead in Couva
* Jakan Lezama, 21, shot dead in same
incident with Abdel John
* Marvin 'Manners' Bascombe, 29, shot
dead in Diego Martin
* 'Joel' aka 'Bighead' found shot to death
near sea in Marabella
SATURDAY MAY 14
* Clint Phillip, 41, shot dead in Valencia
* Dhanraj Rajpaul, 41, shot dead in his
car in Longdenville
* Dirk Ramkissoon, 32, shot dead in
Cunupia
SUNDAY MAY 15
* Juri Chanka Choon shot dead near his
Cunupia home
* Patrice Thomas-Fletcher, 26, dies after
throat is slit in her apartment
MONDAY MAY 16
* Rudy Ramkissoon, 39, shot dead in his
Couva home
* Julius Barrington, 22, of Arima found
shot dead in a panel van in Caroni
THURSDAY MAY 19
* Christal Ramlochan, 69, of San
Fernando found dead in La Romaine
* Akeem Phandorie, 19, shot dead in
Rio Claro
* Jameeila Wilson, 19, shot dead in
Rio Claro
* Clint Julien, 36, stabbed to death
in Arouca
FRIDAY MAY 20
* Nicholas Vespry, 40, shot dead in a
payroll heist
spacer