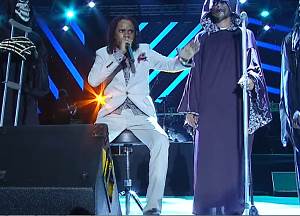 THE Dominican government is seeking an amicable settlement regarding the deportation of dancehall artiste Tommy Lee Sparta from that country, last February.
The 26-year-old entertainer, whose given name is Leroy Russell, along with three members of his team, Tiasha Oralie Russell, Junior Fraser and Mario Christopher Wallace, were deported from that Caribbean territory a day after their arrival.
In a letter dated March 3, 2015, Dr Kathy-Ann Brown, Jamaica's Deputy Solicitor Deneral and Director — International Affairs Division, indicated her Dominican counterpart expressed a desire for a friendly resolution to the matter.
"We have received a formal indication from the Hon Attorney General of Dominica of his Government's desire to pursue an amicable settlement of the dispute utilising the good offices of the Hon Attorney General of Jamaica with your concurrence. We are, therefore, seeking an indication of your willingness to pursue an amicable resolution and, if you are agreeable thereto, the provision of further details of your clients' claims," a section Dr Brown's letter stated.
"We would propose that should you favour an amicable settlement, once we have had an opportunity to review any additional materials which you may submit for our consideration, that we schedule a meeting to address our clients' concerns," the letter continued.
Tommy Lee Sparta is being represented by attorney Bert Samuels from the law firm Knight, Junor and Samuels.
Last May, Samuels told the Jamaica Observer he would be filing a claim with the Trinidad and Tobago-based Caribbean Court of Justice (CCJ) if the Dominican Government did not start compensation negotiations. However, instead of filing the claim, he sought the assistance of the Ministry of Foreign Affairs and Foreign Trade.
Tommy Lee Sparta and his team had journeyed to Dominica to perform at a concert in Portsmouth. They were, however, denied entry and placed in custody before being deported.
Prior to their arrival, the Dominica Association of Evangelical Churches called for a boycott of the artiste's concert. The group said its concern was based on the entertainer's glorification of Satan and his promotion of violence.
Tommy Lee Sparta is known for tracks including Psycho, Nuh Fear Dem, Crow, and Spartan Solidier.