Feed your human spirit by reading or listening to the word of God
Spiritual blindness is being ignorant to things of the spirit. Spiritual blindness doesn't just happen instead, those that are spiritually blind MUST qualify for that position.
According to scripture, a person must reject (not believe) the word of God either in part or whole in order for the Enemy to have legal access in blinding the minds or spiritual understanding of folks.
"But if our gospel (the word of God) be hid (not understood), it is hid to them that are lost; in whom the god of this world (Satan) have blinded the minds of them which believe not" 2 Corinthians 4:3-4.
Isn't it interesting how whenever you decide to read or listen to the word of God, how you instantly become tired, sleepy, irritable or confused? How is it that you can pick up any book of interest and understand what it is that you're reading but in your attempts to read your bible it either doesn't make sense or you don't remember what it is that you've read?
My friend, the Enemy is fully aware of the law and he knows that if he can keep you away from the word of God or frustrate you in giving up on reading it, then he also knows that he can make you ignorant of things spiritual in particular the things of God.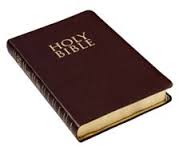 I am speaking to the spirit of someone right now, and you are under the impression that the lack of money is your problem, the lack of resources, your spouse, your job, your housing condition etc. in fact you have narrowed your problem down to a person, place or thing. The truth is my friend, the answers to all of what you have concluded as your problem is found in the spirit world and access to the spirit world and how things operate in that world begins with reading your BIBLE.
The bible is the ONLY LIVING BOOK! In fact it is spirit. Jesus said, "the words that I speak (the word) they are SPIRIT and they are life, John 6:63. Therefore, in reading the bible whether you understand it or not, it is FEEDING YOUR HUMAN SPIRIT AND NOT YOUR FLESH. The healing of your flesh comes as a result of feeding your spirit with the word of God.
Make no mistake, when you reject God's word, Satan then blinds your mind and at that point he is the one leading you.
GOD SAID TO TELL YOU THIS MORNING THAT THE ANSWERS IN WHICH YOU SO DESPERATELY SEEK RESIDES IN HIS WORD; HE SAID TO REMIND YOU THAT YOU ARE NOT FAILING BECAUSE YOU DON'T HAVE THE RESOURCES OR LACKING IN A PARTICULAR AREA. INSTEAD, YOU'RE BEING DESTROYED DUE TO A LACK OF KNOWLEDGE OF THE WORD OF GOD, HOSEA 4:6. RESTORE YOUR SPIRITUAL MIND BY LISTENING TO AND READING THE WORD OF GOD!
Written By: Kevin L A Ewing
[email protected]
kevinlaewing.blogspot.com
Posted by Kevin L A Ewing at 11:02 AM