'Man no haffi tief'
St Mary goat farmer started out with one, now has over 40 goats, but praedial larceny has impacted on his Nubian stock
TYRONE Taylor proudly displayed the more than 40 goats, mainly Nubian-bred, that he now owns as he spoke with the Jamaica Observer North and East about the value of hard work and commitment.
The farmer from White Hall in St Mary said he started out with only one goat and has worked at growing his stock significantly over the last three decades.
"One goat mi start wid, but anywhere the goat breed, mi find them," Taylor said, adding that he did not own only one goat for long.
"Man no haffi tief ennuh… Mi sell about four times this amount already as mi did have up to 60 goats at one time," he explained.
"Farmers from St Ann, Clarendon and Portland buy from me because of the types of goats mi have; mi get buyers from all over," he told Observer North and East.
Many of the farmers know about Taylor as a result of his participation in the various agricultural shows in St Mary, where he has displayed goats over the years.
The 51-year-old said he has also suffered at the hands of thieves, but he remains committed to goat farming.
"Dem tief a big Boer fi mi one time, one of mi prized goats, thieves tek dem weh. Stealing not necessary at all, people mus wuk," he said.
"Me is a creative man; mi just want a start. Mi start small but expand," Taylor said with conviction in his eyes.
"This goat drop three times in 13 months," he said, confirming that his Nubian goat population grows rapidly because of the rate at which they reproduce.
He likes the Nubian breed of goats, which was introduced to Jamaica in the last 10 years, especially because of its ability to quickly reproduce.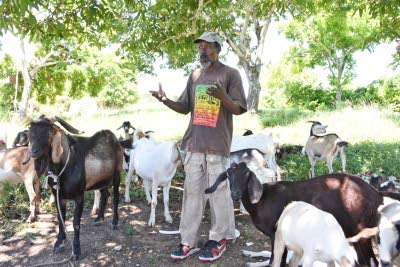 The breed was developed in Great Britain of native milking stock and goats from the Middle East and North Africa. Its distinguishing characteristics include large, pendulous ears and a 'Roman' nose. Due to their Middle Eastern heritage, Nubians can live in very hot climates and have a longer breeding season than other dairy goats.
Considered a dairy or dual-purpose breed, Nubians are known for the high butterfat content of their milk, although, on average, the breed produces less milk than other dairy breeds.
Taking care of the goats is a pleasure for Taylor, who takes them out to feed daily. This may include crossing busy roadways with his large herd.
"Mi walk behind dem and feed dem," he explained. "When mi carry dem in, mi give dem water, cornmeal and biscuits, sweet biscuits and dat mek dem meat taste good."
Taylor said his only concern now is to get a more secure area for his animals.
The farmer encourages people to try and make an honest living, because it is possible if they put in the hard work and dedication.