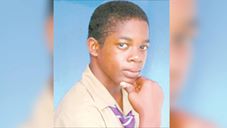 Allana Mais, the mother of slain Kingston College student Khajeel Mais, is to contest the November 28 local government elections.
Mais was this afternoon presented by PNP President and Opposition Leader Portia Simpson Miller as the party's candidate for the Norbrook Division at a meeting of candidates for the imminent local government poll held at the Jamaica Conference Centre in Kingston today.
Norbrook has traditionally voted for the Jamaica Labour Party (JLP), but Mais, who said she was "from a PNP family", believes she has a very good chance of winning.
Today's candidate meeting was the first of two meetings. The next meeting will be held on Wednesday in Montego Bay, St James.