The fresh outbreak of violence in west Kingston resulted in a low turnout of students at the start of the new school year yesterday.
According to the commanding officer for the Kingston Western Police Division, Howard Chambers, the schools affected were Denham Town Primary, Denham Town High, and St Alban's Primary.
"The police patrols were out, the persons who work in the office were out. They were out in the schools and on the corridors. But when you check on the schools the population today was below par, so some of the schools were affected," Chambers told the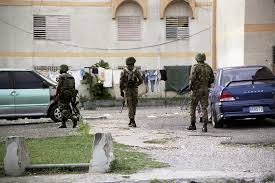 On Sunday, a five-year-old girl was among four people shot and injured in a drive-by on Tulip Lane.
Up to press time yesterday she was said to be in critical but stable condition.
Chambers, while noting that the police will continue to patrol the area, urged parents to send their children to school.
"Going forward on the agenda tomorrow we have the patrols out there as we speak, trying to assure the parents that they should send out the students tomorrow, because the number that we detailed for today will be out there tomorrow to provide safe passage to the students," Chambers said.
He also appealed to the suspect in the shooting of the five-year-old girl to turn himself in.
"Based on the fact that his name is being called, we need him to turn himself in for questioning. We don't have a statement yet from the incident, and we are hoping that those who saw will come forward and give a statement," said Chambers.
Sunday's shooting was the second in recent weeks involving a child.
Late last month, two-year-old Damario Whyte was killed while his father and uncle were injured in a drive-by at the corner of Luke Lane and Beeston Street.
As the violence continued in the area yesterday, a man was fatally shot at the intersection of Blunt and Dumfries streets in Denham Town.
Police report that about 9:00 am the man, identified as Leroy Newman, otherwise known as "Killer", was riding a bicycle on Blunt Street when a gunman shot him.
He was taken to Kingston Public Hospital where he succumbed to his injuries.
The police believe that the upsurge in violence is a result of gang warfare over turf.