Dangerous men!
A motor vehicle accident on the one of the island's roadways.
NINETY-FOUR per cent of the 19 drivers killed in private motor vehicle accidents since the start of the year are males.
Males also accounted for 92 per cent of the 26 pedestrian deaths for the period, according to the latest weekly traffic crash report from the Road Safety Unit of the transport ministry.
The report said, too, that all of the 48 motorcycle fatalities that have occurred up to May 19 are males.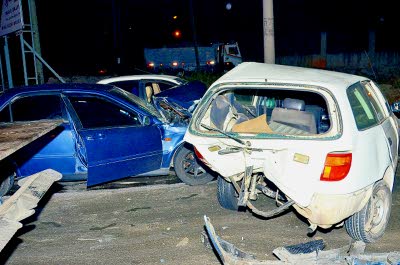 The overall death toll from fatal crashes since January 1 and May 19 now stands at 148, including three multiple fatal collisions which took the lives of nine people. The vast majority of those who perished in traffic crashes were men, who accounted for 89 per cent.
Sponsored Links
[Watch] Better Marketing with The Landing Page Sessions
Unbounce – SC
New York: A 0% Interest Credit Card Is a Great Way to Pay Off Debt
NerdWallet
The Road Safety Unit said fatal crashes have so far declined by two per cent this year, when compared to last year, but noted that fatalities have increased by two times that of 2015.
According to the statistics, a quarter of those who were killed in crashes were passengers, and roughly the same number of private motor vehicles that were involved in crashes from January to May last year have crashed this year.
At the same time, 17 elderly people died in fatal crashes up to May 19, a decrease of 15 per cent over the similar period in 2015. Nearly half of these senior citizens were on foot at the time of their demise. Ten children are also among the fatalities, a 100 per cent increase, the report stated.
Meanwhile, a total of 26 pedestrians were killed in 23 crashes since the start of the year, representing a 30 per cent reduction for the review period. But motorcycle fatalities continue to be a concern on the nation's roads, going up by 14 per cent since January and making up 32 per cent of road users who were killed up to May 19.
The Road Safety Unit said 44 per cent of these motorcycle fatalities happened in Westmoreland which, along with the parishes of St Elizabeth and St Andrew, accounted for 73 per cent of the motorcyclists who died.
The unit is, however, optimistic that fatalities will fall by 19 per cent this year; pedestrian fatalities to decrease by four per cent over 2015; private motor vehicle passenger deaths to decrease by 17 per cent; and private motor vehicle driver fatalities to decline by 21 per cent.
Road safety experts are also projecting as much as a 35 per cent drop in fatalities involving motorcyclists.