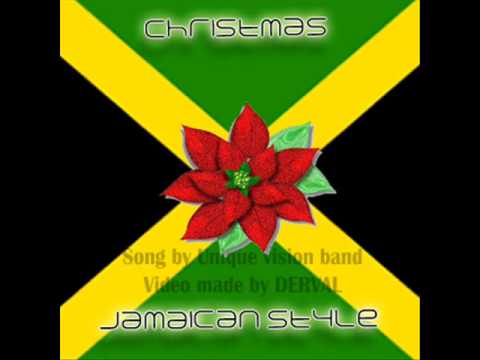 Hula Christmus
Non-stop motion an commotion
Over Dina yard, me chile!
Har pickney-dem eena dem saal,
Dem start see Chrismus wile!
Dina sen de big gal dung-tung
Wid de seven lickle one,
Tell har fi buy dem Chrismus clothes,
Put ten poun in her han.
Before she tink dem ketch tung
Dem was back eena de place
Wid seven hula-hoop apiece
A wiggle roun dem wais.
Dem wine like wire, spin like gig,
Dem yo-yo up and down,
Dem meck breeze pon de spot, reverse,
An Sputnik roun an roun.
Like eight syncopatin rainbow
Jussa merry up de air –
Dem pretty, dem pretty, dem pretty so tell
We jus stan up an stare.
Till Dina bawl out 'Pickney, what
Happen to me ten pung?
Whe de shoes an socks an hat an frock
Yuh go fi buy dung-tung?'
De rainbow corkscrew slow dung,
Eight pickney voice hollar:
'Nutten dung-tung never sweet we
Like de hula-hoop, Mamma.'
Hear Dina: 'But dem mussa mad!
Is warra dem a seh?
Ten-poun note wut a hula-hoop!
A gwine kill dem tedeh!
Ah gwine show dem what gwine sweet dem!
Pas dah big-stick gimme deh!
Ah gwine lick dem pon dem hula
Till dem hoop in yah tedeh!
She pawn a junk a stick an lash out
Right an lef an cross.
Not a blow connec wid target –
Lawd, de pickney-dem was class!
Dem gadder speed an circle weh
Like peacock in de air.
Dina tired till she stagger back
And ketch har breat an swear.
She gwine bun-up every slip an
Pants an shoes an socks an frock,
Meck dem spen Chrisms season wid
So-so hula pon dem back!
But de pickney still in motion,
Chrismus joy eena dem face,
An de Chrismus hula-hoop-dem
Jessa simmer roun dem wais.
Copyright Louise Bennett 1987
From Our Yard. Jamaican Poetry Since Independence. Jamaica 21 Anthology Series. Edited by Pamela Mordecai. Institute of Jamaica Publications Limited, 1987.
Reprinted with permission from the Louise Bennett-Coverley Estate.