A hospital in pain
Calls for urgent attention to be focused on St Thomas's Princess Margaret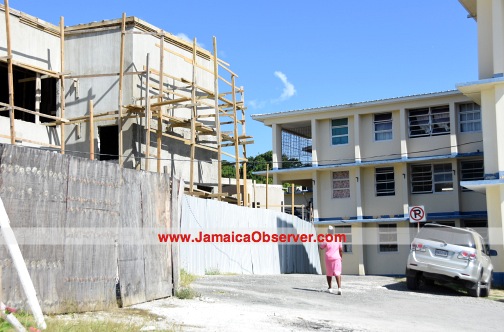 A health care worker walks to her post at the institution recently (Garfield Robinson)
Emergency Government attention is being sought for the Princess Margaret Hospital in Eastern St Thomas, which one member of staff has described as sick and in pain.
The Type C hospital, on the outskirts of the most easterly parish's capital of Morant Bay, lacks certain conditions for staff, in particular medical doctors and nurses, to do their best in treating patients, some of them have told the Jamaica Observer.
The institution is now undergoing structural improvement, with the construction of a new ward and renovation of other areas of the property. But certain basics, according to workers who opted against being identified for fear of being victimised, were still lacking.
"Take, for example, the operating theatre… we have to be working in an unfriendly environment that does not lend itself to good management of patients, and in fact puts them at great risk," one worker told the Sunday Observer.
Sponsored Links
You Can Never Unsee These Disastrous Photos
ZM
Celebrities Caught Doing The Walk Of Shame
Detonate
"The air-conditioning unit has been malfunctioning for several months now. If it works for a short while, it suddenly stops, and I tell you, it has gone way past four months like this. You can't be doing surgeries in the kind of heat that we have been exposed to.
"The air-conditioning unit is essential not only to provide comfort for the staff and patients, but the equipment that we use need to be constantly kept cool for them to function properly. This is a sick hospital… it is feeling the pain of lack of sound management. It needs treatment fast," the staff member said.
"Top management has grown stale, and they will give everybody on the outside the impression that things are going good, but it's far from that," another worker chipped in.
One patient, who said that she did surgery there during the latter part of 2016, complained that she had to endure heat during the procedure.
"It was not a surgery for which I had to be put to sleep, but it was difficult to go through that almost 45 minutes that I spent with the air-conditioning unit just not functioning at all," she said.
Chief Executive Officer of the hospital Janine Hill, while acknowledging that there were challenges in some areas, among them an air-conditioning unit in the operating theatre that did not work well all the time, said that good things were in store for the institution.
"We have a new board, a new hospital management committee chaired by Michael McLeod, which is making efforts to replace the old air-conditioning system which has seen better days.
"Discussions are being held with corporate sponsors in relation to a plan to expand the operating theatre and that looks promising," said Hall, who has been working in her present capacity since April 2016.
"We are trying to get an ultrasound machine here too. The good thing is that we are not overcrowded and we have been able to attract more doctors over the years. There is still a need for other things, as the population is growing, and the hospital serves not only the people of St Thomas, but parts of Portland as well. We are prepared in terms of what we are qualified to do," Hill said.
But another worker who expressed anger to the Sunday Observer over the prevailing conditions, said that the absence of certain pieces of equipment that are normally found in hospitals, was of major concern.
"Something as basic as equipment to measure blood count — a haemotology analyser — is not in place. That cannot be good for the hospital.
"On top of that, no one in authority here appears willing to get the basic things that we need. All they do is talk," the worker said.
The 61-year-old hospital, which opened to the public on Ash Wednesday, February 23, 1955, serves roughly 2,500 patients monthly.
Situated on 26 acres of land, the now 129-bed facility was built to replace the old Morant Bay Hospital which was destroyed by devastating Hurricane Charlie in 1951. Over 200 workers are employed there, making it, along with the St Thomas Sugar Company, the biggest employers of labour in the parish that has struggled to show meaningful economic growth over several decades.
The National Health Fund contributed $200 million towards the construction of a new Accident and Emergency Department about a year and a half ago, which is being done, while repairs were undertaken on the medical records and administrative offices.
In 2015, officials of the hospital touted health tourism as one way in which the institution could make a more meaningful contribution to the parish and nation. Those plans are in train.
Leading the charge at the time was the hospital's Senior Medical Officer (SMO) Dr Cecil Batchelor who, with 26 years under his belt in that capacity, is the longest serving SMO in Jamaica.
Dr Batchelor could not be reached for a comment yesterday, but he was quoted then as saying in a media release that modernising the Princess Margaret Hospital would be the ideal tonic for the institution that would propel it to generate revenue and allow for its expansion.
Dr Batchelor also said that the hospital had laid the groundwork for it to improve its delivery of service to the people of the area who depend upon it.