US Judge Remands Seven Of Eight Alleged Scammers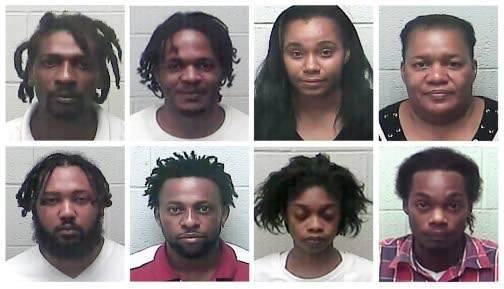 d by a lawman out of the country to face charges in the United States.
A judge in the United States (US) has ordered that seven of the eight Jamaicans who were extradited last week for their alleged role in a lottery scam scheme that raked in more than US$5.6 million should remain in custody until their trial.
The order was made by Magistrate Judge Charles Miller as the seven Jamaicans, including police Constable Jason Jahalal, appeared in US District Court, in Bismarck, North Dakota.
"All defendants who appeared today [Tuesday] waived their right to contest pretrial detention," the US Attorney's Office for the District of North Dakota told The Gleaner.
The other accused scammer, Oneil Brown, is scheduled to appear in court today.
Jahalal, who is on suspension from the Jamaica Constabulary Force, along with Brown, Dario Palmer, Alrick McLeod, Dahlia Hunter, her son Kazrae Gray, Kimberly Hudson and Xanu-Ann Morgan are among 15 Jamaicans named in a 66-count indictment handed down in the state of North Dakota in 2015.
They are charged with one count of conspiracy and attempting to commit wire fraud; 48 counts of wire fraud; 15 counts of mail fraud; and one count of money laundering.
Prosecutors in North Dakota say the group were part of a criminal organisation led by another Jamaican man, identified as Lavrick Willocks, that used an advance fee or lottery scam scheme to fleece nearly 80 elderly American citizens of US$5.6 million or nearly J$500 million.
Prosecutors in North Dakota said no trial date was set yesterday because only nine of the 15 alleged scammers are in their custody.
"One other defendant [based in the US] has been released and is out on bail, another defendant is in custody in Jamaica, awaiting extradition proceedings. Finally, there are four defendants who remain fugitives subject to extradition warrants," a senior prosecutor told The Gleaner.
Joshua Polacheck, counsellor for public affairs at the US Embassy in Kingston, declared last week that the extradition of the eight Jamaicans was the start of a multi-pronged, multi-year push to crush the deadly multimillion-dollar lottery scam.
"This is just the tip of the iceberg. Expect to see a steady flow of people go to the United States to stand trial," Polacheck told reporters.
He also revealed that prosecutors across several cities in the US are now preparing up to 500 extradition requests for Jamaicans suspected of being involved in scamming.