The tears were many, the distress and grief obvious, but somehow those inside the Faith Temple New Testament Church of God in Portmore, St Catherine, found the courage to celebrate the lives of Chevelle and Jermaine Lewis at their thanksgiving service yesterday.
The 14-year-old Chevelle and her brother Jermaine, who had just celebrated his 24th birthday, died on April 16 when the car he was driving crashed on Brunswick Avenue, metres from their house in Eltham Acres, Spanish Town.
Yesterday, several persons shared their memories of the two, reflecting on the short lives that had brought joy to scores of relatives and friends.
In reflecting on Chevelle's short stint at the St Andrew High School for Girls, Janice Whyte Creary, her grade-nine form teacher, said her determination to shine and be the best would not be forgotten.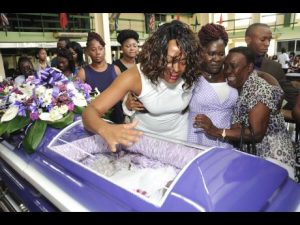 "She always dared to be different and aimed for the highest at all times. When I first saw her I thought to myself that her eyes gave a mischievous and playful look but beneath it all she was an affectionate soul," said Whyte Creary.
"She was never afraid to throw her spontaneous kisses and hugs on you. Chevelle was a vibrant soul who always ensured that those around her were happy. The last few weeks at school before she died was a rough period for her as she had lost a few family members. Little did I know that I would be mourning her loss today," added Whyte Creary.
Exemplary Lifestyle
Annmarie Curtis, who represented the Shipping Association of Jamaica, Jermaine's last place of employment, reminisced on his confidence and the exemplary lifestyle he displayed at the organisation.
"Jermaine's ultimate goal was to own his own IT (information technology) company. During his short stint at the company, he in fact left a mark on all the people he came in contact with, as he was an outstanding worker," said Curtis.
"He was always dressed appropriately and was very professional. Of course, he made sure that it was known that he was a Kingston College past student and he
represented the institution well. We will surely miss this treasure, and I want to say to the family that you raised a good son," she declared.
In the meantime, pastor of the church, Bishop Ronald Blair, implored congregants to make wise decisions and live a life that is in line with the will of God, indicating that life is uncertain.
"At some point in time all of us have had appointments, whether it's with the doctor, a meeting or other engagements, and we know the time and the day. However, even though everyone is appointed to die no one knows the time nor the hour, and so I encourage all of us to be wise," he charged.