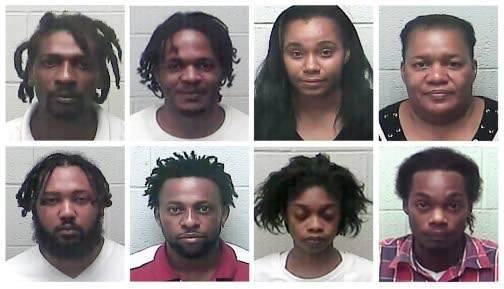 Four more Jamaicans charged in the United States in what authorities say is a multimillion-dollar lottery scam pleaded not guilty in federal court in North Dakota yesterday.Jason Jahalal, Kazrae Gray, Dahlia Hunter, and Xanu Morgan all waived detention hearings and will remain in custody pending further court proceedings, according to court documents. No immediate trial date was set for any of the suspects.
They were among eight suspects extradited from Jamaica to Bismarck last week to face charges in what authorities say is a scam that bilked at least 90 mostly elderly Americans out of more than US$5.7 million. The four others pleaded not guilty last week.
A total of 15 people are facing charges of conspiracy, wire fraud, mail fraud, and money laundering. Each count carries a potential maximum sentence of either 20 or 30 years in prison, according to Assistant US Attorney Clare Hochhalter, who is leading the prosecution.
The suspects are accused of calling victims, persuading them to send money, and wiring the money to bank accounts in Jamaica. Authorities have dubbed the case "Operation Hard Copy", a reference to lists of prospective victims' contact information used by scammers.
The alleged mastermind, Lavrick Willocks, pleaded not guilty in January. Among the remaining defendants, one is awaiting trial in Rhode Island, one is in custody in Jamaica awaiting extradition to the US, and four are still fugitives.
Sanjay Williams, who authorities say was a cohort of Willocks in Jamaica, and ran a separate scam, was convicted by a US jury in 2015 and sentenced to 20 years in prison.
The investigation has been ongoing for more than five years and involves the Federal Bureau of Investigation, the US Postal Inspection Service, and the Justice Department's Office of International Affairs.