19 hours of savagery
The door to the house that was occupied by the sisters. (Photo: Tanesha Mundle)
Saturday, December 17, 2016 is a date that three sisters in St Catherine will never forget.
According to the siblings, it was the day that five gunmen invaded their house in Berwick, beat, abducted and then subjected them to 19 hours of savagery.
The sisters, aged 15, 16, and 25, said their ordeal began about 1:00 am when the men — whom the youngest had earlier seen in a Nissan Tiida parked outside their house — pulled open the wooden door and held them at gunpoint.
The 16-year-old said the men demanded that they hand over $250,000 that they (the gunmen) said they knew the sisters had.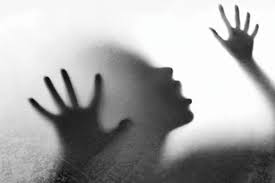 But the siblings said they were baffled by the demand.
"A wise gunman would know better. From you look at the house, it's not even a proper facility, we don't have nothing in the house to take, not even a TV," said the eldest sister.
The men, the Jamaica Observer was told, searched the house and took a cellphone belonging to one of the sisters, after which the siblings were forced into the car and taken away, leaving four young children behind.
However, the eldest, who was placed in the trunk with the 15-year-old, said she jumped from the speeding car.
"I don't even know how I jump out," she told the
Observer. "They locked the trunk, but… I was there feeling around and pull on something and it opened. All I know was that I had to get back to my two sons. So when I look out saw that no car was coming I just jump."
This resulted in her receiving injuries to her knees, forehead and mouth. Now she is unable to eat solid food but, she said, "If I didn't jump, no one would have known that we were abducted."
Her sisters, though, were taken to Bog Walk where they said the men dragged them into the heavy foliage, barefooted through pieces of broken bottles and thorns.
The gunmen, they said, subjected them to more beatings, then bound and raped them.
They were eventually released about 8:00 pm, they told the
Observer from the home of a family friend in the parish where they are staying.
The 16-year-old, who was still visibly shaken by the ordeal, had scars on her arm and complained of feeling pain on the side of her neck where she was hit with a gun. She also said the pieces of broken bottles and thorn on which she had stepped were causing her pain in her feet.
"Every time dem put the gun a mi head and threaten me. One time dem put it a mi left eye and ask how much bullet mi want outta the eight," the 16-year-old recalled.
"I was fretting that I was going to die, but I am most grateful that they let me go. Mi just thank God say dem neva kill me, even though sometime me cyaan sleep, cause every time mi shut mi eye it just a flash back inna mi head," she said, adding that she watches television and plays with other children in an effort to cope with the trauma. "But at night, all I can do is bawl."
Her younger sister, though, has not shed a tear since the incident.
"I am most grateful that they came back in one piece, it could have been worse, they could have not returned," said the 25-year-old who is convinced that the ordeal was not a random act.
"They are just using that money thing as a sham, and I don't take it lightly. I feel there is something behind it, it no just normal suh," she said.
Yesterday, the sisters said that although they have undergone medical examinations and were given medication they have not yet received any counselling from the Centre for Investigation of Sexual Offences and Child Abuse (CISOCA).
They also said they have not been contacted by the Child Development Agency.
Head of the agency Rosalee Gage-Grey, when contacted, said that she was not aware of the incident and after making checks said that it was not reported to her St Catherine office. However, she said she was informed that the sisters underwent medical examinations and were getting counselling from the Ministry of Education, Youth and Information's victim support group.
Efforts to contact CISOCA's head, Superintendent Enid Ross, proved futile, but head of the Jamaica Constabulary Force Corporate Communications Unit, Superintendent Stephanie Lindsay, after making checks into the incident, said there appeared to have been a breakdown in communication.
However, she said she had spoken to Superintendent Ross and would be reaching out to the sisters, as it was very critical for them to receive immediate counselling and psychological help.