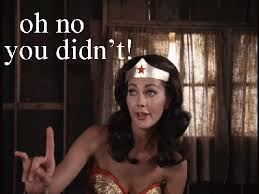 A business man, Taiwo Okunola, has approached Ile Tuntun Customary Court, Mapo, Ibadan, Oyo State, seeking the dissolution of his four-year-old marriage to his wife, Serifat Okunola and the custody of their only child.
Taiwo alleged that his wife had usurped his position as head of the home and now gives orders and directs the affairs of their home.
He added that she was always finding fault in all that he did and often times fought him.
"My wife has turned me into an object of pity before my family members and a laughing stock before my friends.
"She has usurped my position as the head of the home and now dictates how the home should be run.
"She has abandoned all the roles expected of a woman in the home and goes out and comes in whenever she likes. She has virtually turned me into a househelp.
"My lord, I sweep the floor, dust the furniture and wash the clothes because my wife is not bothered if the house is clean or not. She's also used to piling up dirty clothes in the room.
"She has also abandoned her responsibility of cooking for the home. I cook the food and she sits down and eat. Sometimes after eating and licking her hands and the plate, she will complain that the food was not well cooked or delicious.
"Any time we have visitors, she would ask me in their presence to go and prepare food for them, "he told the court.
"We once had a misunderstanding and she sent me out of the house along with our only child who was then two years old.
"She later came back begging and I forgave her and we moved back home.
"It is now a regular thing to beg her before we make love. And when we do, she ensures I don't enjoy it.
"The last time we fought, she sent me out of the house and threatened to kill me if I ever returned.
"I'm tired of fighting and playing the role of a housemaid.
"Please, separate us and order her to allow me pack my belongings out of her house, "he said.
"My husband is nothing but useless, "the defendant told the court.
"He's not fit to be called a man.
"He makes so much noise as being the head of the home, but he has shed his responsibility as husband and father.
"I single handedly set up a lucrative business for him as a means of livelihood and has been pumping money into it on a regular basis, but this is yielding nothing because he is not just diligent.
"I also rented an apartment and he moved in with me.
"I pay the rent yearly. He doesn't know how much the rent is.
"Our marriage has produced just a child who he finds difficult to cater for.
"I feed and clothe my husband and our child. I'm also responsible for our child's education, the defendant stated.
"I bought a car for the family and registered it in his name as any faithful wife would do. He has been cruising around in this and telling everyone he bought it.
"I recently discovered he had been selling my property in the house without my consent. When I asked him, he denied it.
"He moved out of the house recently after we had a misunderstanding and went away with the car.
"My lord, I'm also ready for divorce. I pray for the custody of our child and want my car returned."
The court president, Chief Agbaje Olasunkanmi, after listening to the two parties, ordered that the case be adjourned till March 14 and directed that they bring their parents or relatives along.
Both parties came with their relatives on the stated day and the court president asked if any step had been taken on reconciliation.
Both parties insisted on divorce while their relatives also gave their consent.
Olasunkanmi, therefore, ruled that their marriage be dissolved and awarded the custody of the child to the defendant.
The plaintiff was asked to pay N3, 000 monthly as the child's feeding allowance and take responsibility for his education and health care.
The defendant was ordered to allow the plaintiff pack his belongings from her house.
Speaking on the car, Olasunkanmi explained that the customary court only has jurisdiction on the issue of their marriage. He, therefore, advised the defendant to pursue the case at the high court.