'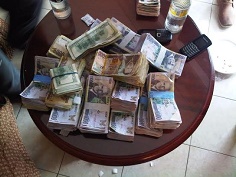 A Bindura woman who used her husband's automated teller machine (ATM) card to withdraw more than $9 000 on numerous occasions without his consent was yesterday arraigned before a Harare Magistrate facing theft charges.
Fiona Samson (27) of Matiya Nison Samson Village under Chief Musana in Bindura was not asked to plead when she appeared before Magistrate Donald Ndirowei.
The complainant is Godfrey Chindito (47) and operates Dunaverty Farm in Bindura.
State prosecutor Farai Gatsi alleges that Samson would occasionally steal her husband's ATM card and make cash withdrawals at various CABS branches in Bindura and Harare.
According to court documents, Samson allegedly committed the offence from the period November 2013 to May this year before her luck ran out.
The two stayed together as husband and wife at their Belvedere residence from January 2012 until this year when the incident happened.
It is during that period that the accused hatched a plan to steal money from her husband's CABS bank account. On several occasions, the accused would steal her husband's ATM card.
On May 1 2014, the accused attempted to withdraw cash from Chindito's bank account at CABS Park Street in Harare, but hit a brick wall after the card got stuck in the machine.
The bank officials contacted the complainant, notifying him of the development.
The complainant requested a bank statement after learning of the illegal transactions whereupon he discovered missing cash.
A police report was subsequently filed, leading to the accused's arrest.
Nine thousand one hundred and sixty dollars was allegedly withdrawn from the complainant's bank account, with only $80 recovered.
Samson is out of custody on $250 and is due back in court on July 25.