Sherekia Carter…..you stated on a particular Radio Show that you have several degrees,you are very much educated.So the question i want to know and what enquiring minds want to know and need to ask you how many degrees do you really have and have accomplished and got??Because you stated n facebook after posting your Associates In Arts(Honors) Certificate you also stated on facebook you are also expecting another delivery in the mail in a few months,you will be getting your Bachelors,then your Masters and hopefully your PHD and the sky is the limit and how proud you are of yourself.Which is it…..young lady and little liyad gyal because you seem very confused!!!!!!
But its good you upgrading yourself and bettering yourselg and stacking up your degrees and making tons of money or will be by then so you can stop brag,boast popstyle and showoff how your money long but yet Sherilee see you in Ross Department Store shopping for clothes and shoes and you walk pass Sherilee like you better than her!!!!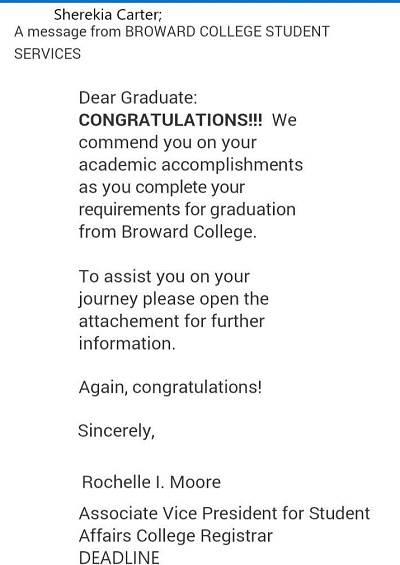 Word Of Advice,Sherekia don't let nobody especially Sherilee know of you bragging and boasting on facebook how your money long because if she see you in any of those little department stores she going to come bawl it out like she black and she proud that she seen you,here,there and everyyyyyywhere!!!!!!!The price you you pay to keep up appearances!!!!!!
Another accomplishment you say but you didnt get to walk accross the stage this time hopefully your close friends and family will be there to cheer you on!!From January until now you been posting about graduating and you know damn well all you have is your degree in Associates Of Arts but all of a sudden now you now have your Masters ah weh Masters ah guh from 19 how when weh Masters ah guh and now you graduating school now with your Bachelors otherwise know as B.S.N(Bachelors Of Science In Nursing))stop the damn lying and the damn fronting and putting on a damn show that you have more than one degree smh.You never thought anyone would catch unto your lies would you!?!?!?Or your lies will catch up to you right??Sad f**g case!!!!!!!