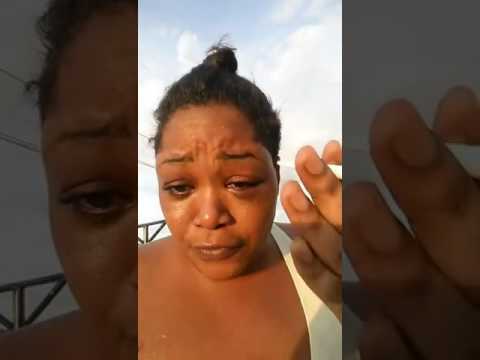 A Rastafarian man whose finger was bitten off by his stepdaughter, who also ripped out several of his locks during a disgraceful brawl at the Norman Manley International Airport in Kingston last month, was last week fined $6,000 when he appeared in the Kingston and St Andrew Parish Court.
Winston Bailey, who was sporting a bald head, was fined by Parish Judge Andrea Collins after he pleaded guilty to disorderly conduct. If the fine is not paid he will spend 30 days in jail.
Bailey, his estranged wife Lavern-Wilson Bailey, her daughter Jessica McLeod, and Bailey's current companion Althea Nelson were all arrested and charged with disorderly conduct following a brawl at the airport on November 10, which was captured by CVM Television and went viral on the Internet. McLeod was also charged with assault occasioning grievous bodily harm.
In the video Bailey and his stepdaughter could be seen wrestling and throwing blows at each while lying on the ground, while the two other women exchanged blows.

The video also showed several of Bailey's locks scattered on the ground after they were pulled from his head by his stepdaughter, and a piece of his severed finger which she bit off from one of his thumbs.
On Friday when the case was mentioned, only Bailey and his companion were present; the other two women were said to be overseas after their flight was delayed.
Bailey pleaded guilty while Nelson pleaded not guilty.
According to Bailey, the dispute started after he told his estranged wife to leave his companion alone.
"I told Miss Bailey she need to leave Miss Nelson alone because is six years now we part and each time she see her she verbally abuse her," he said.
After Bailey's sentence was passed, Judge Collins scheduled a mention date for Nelson to return and extended her bail.
The other two accused are expected to be present on that day.