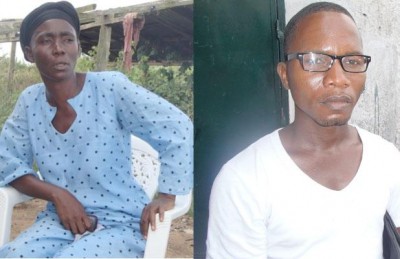 Ms. Kou Baalon, a survivor from one of Ganta's isolated communities, recalls how her continued existence was through Divine intervention, coupled with herbs administered to her and several other persons suspected of having contracted the EVD in the same vicinity. The herbs, she said, were administered during their ordeal by Herbalist Madison Konkunser Mangblin.
Herbalist Mangblin is licensed by the National Herbalist Department at the Liberia Medical and Dental Council with license# 25; code# 05CD/TH, to practice traditional medicine in the country.
For him, it all happened through God's direction that the herbs he administered to those being quarantined at that time in Ganta were able to restore their health.
Kou Baalon contracted the virus in Ganta, Nimba County after coming into contact with infected people upon her return from Monrovia. She, however, came through along with 12 others following the completion of their treatment with herbs.
Two of them were pregnant when Herbalist Mangblin administered his herbs, while at the same time those being quarantined were treated with various types of medications from the Nimba County Health Team.
"One of the two pregnant women safely delivered a week after the 21-day isolation period was over, but the other, in her sixth month, is yet to deliver," said Baalon.
Herbalist Mangblin said it is good to apply herbs when it becomes necessary, affirming Baalon's survival by herbal treatment despite the fact that there is to date no known cure for the EVD. Ms. Baalon concurred, praising God and the herbalist for her survival of the ordeal she and others suffered during the peak of the Ebola outbreak.
Like his patients, Herbalist Mangblin believes in the existence of Ebola. "This is why before I touch any patient, I put on my personal protection equipment (PPE)."
Ms. Baalon is not the only person Mangblin treated. He has treated a total of 34 other Ebola-related cases from August 24 to the present including confirmed, suspected and probable cases from various locations across the county, almost all of whom came through except four who, according to him, died of "dehydration" prior to his intervention.
Ebola spread wildly in Nimba, particularly in Ganta, the commercial hub of the county, in the months of August and September.
For now, the story has changed, with a gradual decline in reported Ebola cases across the country, particularly in Nimba where for the past few weeks there have been no reports of new cases.
Baalon wants everyone, irrespective of status, to know that Ebola is real, is here and is killing people without discrimination. She urged all to continue living by the preventive measures already in place.
For Survivor Kou Baalon, what is left for her to do is figure out how she can regain her lost capacity to sustain herself stating, "during the time I was sick, I spent all that I ever owned thinking of nothing else but death."
Following the upsurge of the Ebola virus in August 2014, many citizens were not only stunned by the deadly virus, but have also been harshly confronted with economic hardships as the virus systematically stalled all sectors of the economy.