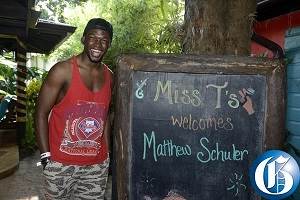 Artiste hopes for collaborations with dancehall or reggae acts
Davina Henry, Staff Reporter
Though he many not have walked away with 'The Voice' trophy, Matthew Schuler appears to be getting something much more important – the hearts and support of Jamaicans.
The fourth-place winner in the United States talent show, who is in the island ahead of his performance at the Shaggy and Friends benefit concert in aid of the Bustamante Hospital for Children, says he is hoping to collaborate with several Jamaican artistes.
The Gleaner treated Schuler and his family, which included his father Pastor Donald Schuler, his mother Dawn, his brother Donald Jr, and his sister Diamond, to a day of adventure in Ocho Rios.
Between zip lining, bob sledding and learning patois at Mystic Mountain, Schuler revealed that he was a big fan of Sean Paul and Elephant Man.
"I'd love to do a collab with any of the artistes on the line-up. Especially Sean Paul, his Trinity album was one of the first albums I bought as a kid. Shaggy is a legend and Tessanne is like my sister so it would definitely be an honour to collab with them. I've actually been compared to NeYo a lot when I was younger, but I guess we sound a lot different now but all the artistes on the line-up are amazing. I'd definitely be interested in collabs with them," he told The Sunday Gleaner.
"Yea, Elephant Man … I like dancehall, I've definitely been listening to dancehall my whole life and I would definitely love to do some collabs with some dancehall artistes also."
Schuler was looking forward to his performance at the Shaggy and Friends concert, it being his first major concert since competing on The Voice.
Fans last night were looking forward to his cover of Halleluyah, which landed him at number two on the iTunes chart, but Schuler was also anxious.
That anxiety, he said, came from the massive line-up on the show
"Artistes such as Sean Paul, Assassin, NeYo, Wayne Marshall – people that I've met and that I consider family now. It's cool to be on the line-up and to do it for such a great cause, it really is an honour," Schuler said.
With his time in Jamaica winding down, Matthew recalled that the highlight of his trip was his first day in the island.
"It was crazy. People were hugging me and asking for pictures as soon as I stepped off the airplane. Then right after that, I performed at the 'Beats By Dre' event. I got to perform in front of Miss Jamaica and all the other people who were there. It was really cool," he said.
Jamaicans have seemingly adopted him as their own as is evidenced by the many fans who flock him everywhere he goes.
"I can't say I expected the reaction I got when I landed in Jamaica. During 'The Voice', Tessanne would tell me that Jamaica loves you, but I couldn't have expected all this. It's crazy. We went to a supermarket the other day to get some Blue Mountain Coffee and everyone was hugging me and taking pictures and we went to church and it was the same thing, went to a few parties and it was the same thing. There is so much love everywhere I go. It's amazing, it's mind blowing and it encourages me to keep it up so that I continue to bless people because that's the most important thing."
Schuler is already looking at a few labels in hopes of making 2014 his year.
"I've written so many songs, I basically have an album already. I just need to have the producers to flesh it out. Shaggy has been helping me out with that also, he has a lot of connections. I want to cross genres and cross boundaries with my music."