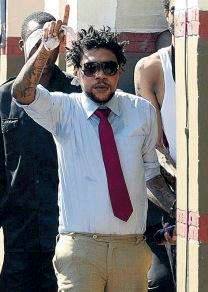 None of 40 phone numbers registered to Kartel
BY PAUL HENRY Coordinator — Crime/Court Desk [email protected]
Friday, January 10, 2014
Print this page Email A Friend!
VYBZ KARTEL… is being tried for murder
A witness from telecoms company Digicel testified yesterday that none of 40 telephone numbers for which the police requested customer information was "ascribed" to Vybz Kartel and his four co-accused.
Joseph Simmonds, who was group head of business risk at Digicel last year, made the disclosure under cross-examination from Tom Tavares-Finson, Vybz Kartel's lawyer.
In a day that saw him undergoing intense grilling from Tavares-Finson, Simmonds also testified that he was informed that a disc with data for the 40 devices, which he had provided to the police, had been lost.
Simmonds had said during his examination-in-chief, led by senior prosecutor Jeremy Taylor, that he had prepared two discs and labelled them JS1 and JS2 which he presented to the police in 2011. JS1 was sealed with evidence tape.
The disc labelled JS2 was entered into evidence. But during his cross-examination by Tavares-Finson, Simmonds said he could not tell by looking at the JS2 disc if it was, in fact, the one he had presented to the police as his signature wasn't on it. Pressed by Tavares-Finson, he said also that the information on JS2 could be copied and modified and that he would have to have JS1 in order to verify if the information on JS2 was taken from the Digicel system and presented to the police.
Earlier when Simmonds said that none of the phone numbers was attributed to the accused men, Tavares-Finson commented, sotto voce, that it was a waste of time for the prosecution to present the information in that case. The comment elicited sounds of apparent approval from some of the 12 jurors.
Vybz Kartel, whose real name is Adidja Palmer; Shawn 'Shawn Storm' Campbell; Shane Williams; Andre St John; and Kahira Jones are being tried for murder in the alleged beating death of Clive 'Lizard' Williams on August 16, 2011.
On Wednesday, Justice Lennox Campbell ruled that information from phones said to belong to Vybz Kartel should be presented to the jurors.
Yesterday, during his examination-in-chief, Simmonds said — in relation to questions from Taylor — that he is familiar with the cloning of sim cards but that he had never seen any such case in Jamaica since he started working with Digicel here in 2007.
A cloned sim can make calls and it would seem as if the call had originated from the original sim card.
Still, Simmonds said that the company has measures in place that would alert it to any such occurrence.
Under cross-examination from Tavares-Finson, Simmonds admitted that the Digicel system had been breached on two occasions, once in 2009 when money was stolen and in 2013 when data was stolen by a person who attempted an act of extortion using the information.
Simmonds said that calls are recorded and kept by Digicel for a year, but that he wasn't certain for how long texts were stored.
He said also that it could be that the information "may be" be stored by Digicel in a jurisdiction outside of Jamaica and the Jamaican laws that govern their usage.
He said BlackBerry Messenger messages were stored by former Research In Motion (now BlackBerry), makers of the cellular phone device.
At one point Tavares-Finson asked Simmonds if he would be surprised to know that a telephone that is supposed to be in the custody of the police was being used to send texts, but Taylor objected.
Yesterday's proceedings ended with Simmonds being cross-examined by attorney Michael Lorne, who is representing Campbell.
Lorne will continue his examination when the matter resumes in the Home Circuit Court today.
Detective Corporal Heather Forest of the Flying Squad also gave evidence in the matter yesterday.