A gunman who federal authorities say had possible ties to terrorism opened fire early Sunday morning at a packed Florida nightclub, killing approximately 20 people and wounding scores more in a bloody scene that ended hours later when police stormed the building and killed the suspect.
The shooting in Orlando at Pulse, which bills itself as "the hottest gay bar" in the city and was packed with more than 300 people, was reported minutes after 2 a.m. Sunday. In addition to those killed inside the club, at least 42 people were taken to area hospitals. Dozens of party-goers remained hostages in the club for several hours after the initial shooting, prompting SWAT teams to pour inside. Shortly after 6 a.m. local time, Orlando police tweeted that the gunman had been killed.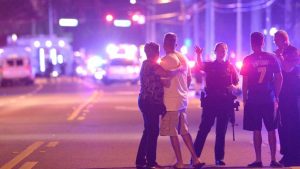 The gunman, whose identity was not immediately released, "may have leanings" toward radical Islam, FBI Special Agent in Charge Ron Harper said when asked by Fox News whether the suspect had ties to Jihadist terror groups. Harper said the investigation is looking into possible threats made previously by the suspect in connection to radical Islam groups. He said the agency is still investigating and has yet to confirm any role a terror group may have played in the mass shooting.
"There are allegations the individual made threats in the past to having ties to terrorist organizations," Harper told Fox News.
"At this time we're looking at all angles right now," Harper said. "We do have suggestions that that individual may have leanings toward [radical Islam], that particular ideology. But right now we can't say definitively so we're still running everything around."
The incident "is being investigated as an act of terrorism," said Danny Banks, special agent in charge at the Florida Department of Law Enforcement, who added that "around 20" people are believed dead inside the nightclub.
Banks said the suspected shooter – who was armed with an "assault-type rifle" and a handgun — also was dead inside the club, where he was shot and killed at around 5 a.m. in a shootout with SWAT team officers who were called in "to rescue hostages," Chief John Mina of the Orlando Police Department said.
Mina said officers were engaged in a gun battle outside the club before the suspect went back into the building, where more shots were fired. He said the gunman then took several hostages.