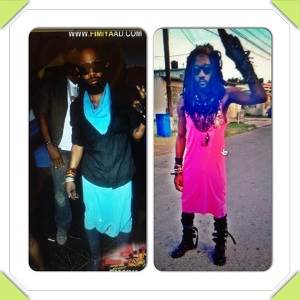 CURTIS CAMPBELL, STAR Writer
Shizzle Sherlock… 'Mi neva wear nuh dress'
Dancehall fashion enigma Shizzle Sherlock is clearing the air following assertions made by one of his past associates that he was wearing a dress at a popular party.
According to the dancehall fashion personality, he was wearing a long male merino, however, some persons misunderstood what it was.
Shizzle also took the merino to THE WEEKEND STAR as proof that it was a merino and indeed it appeared to be. He disclosed that he wears strange clothing, but would never wear women's clothing.
"The streets know sey mi shock people when it comes to dancehall fashion. The most dem can sey is that Shizzle look like a madman. But wearing a dress a nuh me dat. I would never go overboard with fashion, when I wear clothes I go correct and I don't miss," he said.
over two years
Shizzle also clarified misconceptions about his clothing saying, "I was wearing a tall merino, and mi neva wear girl clothes from mi born yet. Mi just want the streets know sey mi neva wear nuh dress."
Shizzle says he has been wearing long merino and long T-shirts for over two years. He also says it was ironic that Gary Sherlock, who was his childhood friend, would speak ill about his dressing, when he too wears similar outfits.
"Gary, we split up to two years now, just duh yu thing and mek mi duh mine. Di two a wi grow up together and yu a try mash up mi career … it's a long merino it's di new trend, and it has nothing to do with di girl dem thing," said a seemingly upset Shizzle Sherlock.
In a press release sent to THE WEEKEND STAR, Shizzle Sherlock says he was simply being fashionably creative and encouraged his naysayers to research before drawing ignorant conclusions.
my fashion
"I want to explain to my fans that Shizzle Sherlock, the 'Fashion King' for dancehall, is a strong and positive yute in the streets. The accusations that were made against my fashion from Gary Sherlock all happened because we are no longer colleagues.
Dancehall is about creativity, and I am well known in dancehall to always bring a new fashion in the streets from way back, 2002 example: I'm talking bout Passa Passa, Dutty Fridayz, Hot Monday and year to year events like Hennessy Black and White. I'm known to leave people talking and talking and talking, but they always wanna know what's next. My fashion makes dancehall promoters in Canada, England, Cayman, Antigua and other small islands book me for shows repeatedly. I am paid internationally for my appearance all because of the respect for my creative fashion, and I am booked for the rest of the year for Canada and Antigua," he said.