Gunman Shot, Injured By Licensed Firearm Holder During Portland Robbery Attempt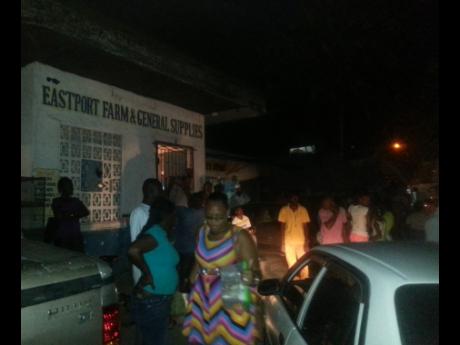 People gathered outside the Portland farm store after the robbery attempt – Gareth Davis Snr photo
Gareth Davis Snr., Gleaner Writer
A gunman, who attempted to rob a farm store in Port Antonio, Portland was shot and injured by a licensed firearm holder late Saturday evening.
According to the police, the man allegedly entered the East Port Farm and General Supplies on West Street armed with a handgun and demanded money.
That's when he was challenged by a licensed firearm holder and a shootout ensued.
When the shooting subsided, the man was found lying face-down suffering from gunshot wounds to the upper body.
Several people, some with sticks and machetes, soon converged in front of the farm store to attack the wounded man.
He was, however, quickly placed in the trunk of a vehicle by a motorist and rushed to hospital by the police.
Three weeks ago, the farm store was held up in a daylight robbery by two gunmen who later escaped with an undetermined some of money.
The police are appealing to business operators to be vigilant, especially during this festive season.