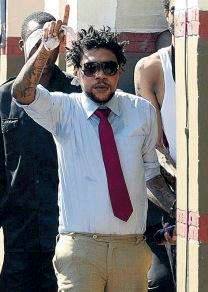 Barbara Gayle, Justice Coordinator
Justice Lennox Campbell has directed lead prosecutor Jeremy Taylor in the Vybz Kartel murder trial to make available to the court the handwriting expert William Smiley, who had looked at certain documents, one of which is a letter that defence lawyers are contending was written by the prosecution's main witness to Public Defender Earl Witter.
Defence lawyer Tom Tavares-Finson, in making the request, said his intelligence revealed that it was a Mr Smiley who had examined the documents. He said he had earlier asked for a copy of the report, but the prosecution failed to give it to him.
Taylor said he had discussions with Tavares-Finson and had told him that there was no report. He said he had given Tavares-Finson the name of the expert before the Christmas break for him to utilise the expert. He said Smiley did not write a report because the prosecution did not pursue it.
"The prosecution told this court that Smiley examined the document, spent half an hour, and abandoned it," Tavares-Finson responded. He said he wanted a statement from Smiley as to the reason for abandoning the examination.
JUDGE ORDERS STATEMENT
Justice Campbell then ordered Taylor to get a statement from Smiley as to his involvement with the Office of the Director of Public Prosecutions in relation to the matter.
Retired Senior Superintendent of Police Carl Major, who is a handwriting expert, was cross-examined yesterday by Taylor and will be further cross-examined on Monday.
Major, who was called by the defence, had testified that the letter that was sent to the public defender was written and signed by the prosecution's main witness.
The witness has denied writing or signing the letter.
Major said he made his comparisons with the photocopy statements bearing some 33 signatures of the witness and the writings and signature on the letter.
Major was asked to outline the variations in the signatures and he referred to some outstanding similarities.
Taylor, in questioning Major about the 'h' in the documents, said some of them were fat, while those on the letter seemed to be suffering from some famine.
The judge, in explaining the question to the witness, remarked: "Counsel is saying one is overweight and one meagre."
Major said he agreed with Taylor, but went on to explain that was called natural variations, but it was the same person who wrote them.
The Crown is alleging that Kartel, whose real name is Adidja Palmer, entertainer Shawn Campbell, popularly known as Shawn Storm, Kahira Jones, Shane Williams and Andre St John murdered Clive 'Lizard' Williams on August 16, 2011. He was allegedly beaten to death over two missing guns.