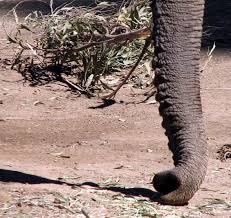 Elephants force four women into premature labour
FOUR women were forced into premature labour as a result of fear after getting unlikely visitors at Ndolwane Hospital's maternity ward – a herd of elephants.
The herd that has over the past weeks been terrorising villagers of Ndolwane in Bulilima District, invaded Ndolwane Hospital last week and this saw four women who were at the maternity section all giving birth at once. According to villagers who reside near the hospital, the four women could have had their labour induced by the fear of seeing the huge animals walking outside the hospital unexpectedly.
"These women were not due for delivering their babies but their labour was induced by the presence of the elephants. They had never seen the animals at such close range and with their huge size, the women were shocked and gave birth," said one villager.
The elephants brought down a perimeter wall around the hospital leaving patients scurrying for cover in all directions.
Mr Ian Sibanda, another villager, said the elderly were particularly at risk as they could not flee from the jumbos.
The district administrator (DA) for Bulilima, Mrs Ethel Moyo, said she was unaware of the issue.
"I do not know anything about elephants, no one has come forward to tell me anything about it," she said.
The DA said Ndolwane Hospital authorities had not approached her to inform her about the damage that the elephants caused.
Last week, an elderly woman from Kezi was reported to have been killed by a jumbo. According to reports the elephant is alleged to have come from Tokwane area in Plumtree.
The animal was tracked and killed by a professional hunter. The situation is so bad that schoolchildren in Kezi are now missing classes as they fear they may be attacked. However, villagers in Ndolwane said when they reported the matter to the Zimbabwe National Parks and Wildlife Management Authority they were told that there was no need to panic as the jumbos had not harmed any humans in the area.
Villagers are appealing to the department to remove the animals from the area into a game park where they will not attack people or destroy buildings and vegetable gardens.