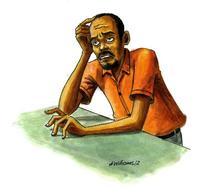 Sangoma on the run after raping client
A Nyamandlovu traditional healer reportedly raped his 17-year-old neighbour under the pretext of curing her of bed wetting problems.
The man whose age could not be ascertained allegedly told the unsuspecting girl that intercourse was the only remedy for her problem.
Matabeleland North provincial police spokesperson Assistant Inspector Siphiwe Makonese confirmed the incident yesterday and said the man was still on the run.
"We received a report of an inyanga who raped his neighbour two weeks ago claiming that he was curing her of bed wetting. The incident happened under Chief Deli at Chamrock Farm in Ticehurst Nyamandlovu," said Asst Insp Makonese.
She said the man had initially given the girl's mother some traditional herbs after she told him about her daughter's bed wetting problem.
"The girl met the inyanga a day after drinking the herbs and told him that the herbs did not work as she was still bed wetting.
"The man then invited the girl to his house late that night and told her that he was going to get rid of the problem that night. The girl went to the man's homestead and at around 10 pm he raped her and spent the whole night with her," said Asst Insp Makonese.
She said girl went home the next day and after telling her mother where she spent the night, a report was made to police.
"Police were notified and the girl was taken to Tsholotsho Hospital for check up. We are appealing to members of the public to use convectional methods of curing diseases to avoid being taken advantage of," said Asst Insp Makonese.
She also urged the public to help police in locating the suspected rapist.
Sangoma Rape