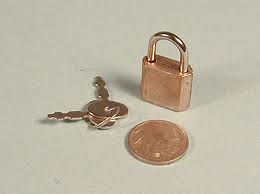 A woman was rushed to a hospital after she swallowed rat poison in attempt to commit suicide.
When Sitabai Chouhan was admitted to the Maharaja Yashwant Raoin Hospital in Indore, India, nurses helped clean the poison from her system. That is when they made a horrific discovery, claims an online tabloid mzansionline.
Emergency room staff saw the woman's genitals had been secured with a padlock.
Her husband, 38-year-old Sohanlal Chouhan, was questioned by police. Police learned that Chouhan put the padlock on his wife's genitals nearly four years ago because he feared that she would be unfaithful to him.
He allegedly cut holes into his wife's genitals and locked it with a padlock.
Investigators said that Chouhan began the procedure by drugging his wife, and then he used a needle to puncture holes through both sides of his wife's labia.
He inserted a small padlock through the holes and he locked it every morning before he went to work. He unlocked it when he came home from work. Investigators found the key to the padlock hidden in his sock.
Chouhan, who works as a mechanic, justified the torturous abuse by claiming that several women in his family had been unfaithful to their husbands in the past.
Mrs Chouhan, married Mr. Chouhan when she was just 16-years-old and they have five children.
She is said to have attempted suicide after her husband allegedly made sexual advances towards their eldest daughter.
Mrs Chouhan told Indian officials that she attempted suicide because her husband attempted to molest their eldest daughter and she felt that she cannot stand up against him to protect her daughter.