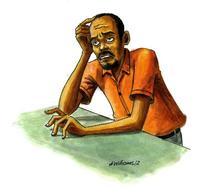 A polygamous Harare pastor appeared in court facing allegations of raping two women married to a member of his flock one-after-the-other in one day.
Pastor Martin Gumbura of End Time Message reportedly lured his victims with the promise of a better life.
It is alleged Gumbura raped the women after they had gone to his house to collect their money which had been sent by their husband who works in South Africa.
Gumbura appeared before magistrate Mr Elijah Makomo on Tuesday charged with two counts of rape.
He was remanded in custody to October 29.
Mr Makomo advised him to apply for bail at the High court since the lower court has no jurisdiction to entertain bail on such matters.
Mr Emmanuel Samundombe of Antonio and Dzvetero legal practitioners is representing him.
Appearing for the State Mr Tungamirai Chakurira alleges that on April 7, the two women went to see Gumbura who was their pastor during that time to collect money which had been sent by their husband.
Gumbura, its is alleged, requested to see the first wife and ordered her co-wife to remain outside.
While inside, Gumbura allegedly advised the woman to 'dump' her husband alleging that he was not good enough for her.
He told her that their husband favoured the younger wife.
It is alleged Gumbura promised her a better life before quoting verses from the Bible which he said upheld extra marital affairs.
He locked the door from inside and asked for sexual favours from the woman.
It is alleged the woman turned down his request and lied to him that she was on her monthly menstruation period.
Gumbura reportedly requested to see if she was telling the truth before raping the woman. He also asked to be intimate with her for the second time and she refused.
The court heard that Gumbura ordered the woman not to disclose the abuse before giving her the money which had been sent by her husband.
The woman left the room and Gumbura called the woman's co-wife into the room while the first victim waited outside.
He also raped her, the court heard.
It is the State's case that the women later went back to Kadoma and when they got home they discovered that they had been both raped by Gumbura.
They allegedly reported the matter to their husband who in turn informed Gumbura's first wife.
The pair's husband advised them to stop going to Gumbura's church and a report was later made to the police.