He is too jealous, he 'll die of hypertension —Wife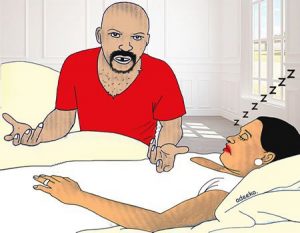 ventually die of hypertension, "Baliqis Olanise said at a Mapo Customary Court in Ibadan, Oyo State.
Baliqis had sued for divorce of his husband, Muritala Olanise, whom she married six years ago.
In her suit, the plaintiff stated that her husband was nonchalant about her well-being and that of their children.
She added that he was always accusing her of engaging in extra marital affairs and was fond of monitoring her activities.
According to Baliqis, Muritala had on many occasions beaten her and left scars on her body due to her jealous nature.
She thus prayed the court to separate her and her husband and grant her custody of their two children.
"My husband is no more committed to his responsibility as the head of the home and breadwinner.
"He has abandoned his duty to provide food and the children's other needs. I have now taken up these responsibilities.
"I run a chemist and have a reasonable number of patronage. Anytime my husband comes to my shop and sees me exchanging pleasantries or chatting with my male customers, he gets angry and this sometimes leads to a fight between us.
"He's jealous and feels threatened when other men pay me compliment or give me their attention.
"He has beaten me on many occasions as a result of this and left scars on my body, the plaintiff said.
"I was shocked to discover early this year that my husband wanted to kill me through diabolical means. My business received a boost which automatically enhanced my finances, but my husband wasn't pleased with this. He felt threatened and thought I was usurping his position at home. He, therefore, wanted to get rid of me.
"I packed my belongings and left his house with my children a month ago.
"Since he's now after my life, I believe the best thing for us is to go our separate ways so that I can live and take care of my children, "she stated.
"My lord, I'm stating it clearly before the court that she was the one who tried to poison me three months after we got married.
"I caught her trying to put some blackish substance in my tea.
"When I accused her of attempting to kill me, she lied that the stuff was meant to be put in honey and given to our child who was sick.
"I reported her to my elder brother who counseled her, "the defendant stated.
"She feels too big to cook for me and doesn't care about me since she now has strings of lovers.
"I once caught her with one of them. When I accused her of being unfaithful to me, she turned it into a fight to save her face.
"I've had enough of her atrocities, I agree to her plea for divorce.
After listening to the couple, the court president, Chief Ademola Odunade, stated that more evidence would be required before judgment was given.
He thus adjourned the case till May 23.