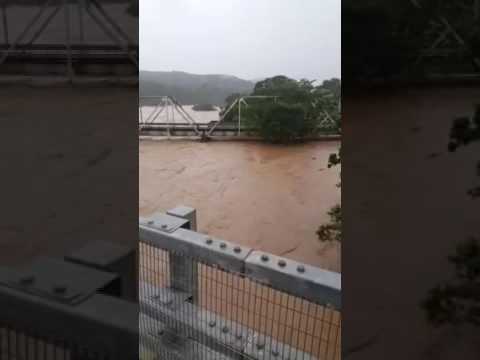 RESIDENTS in some areas of Portland and St Mary which were badly affected by hours of rainfall earlier this week, remained marooned yesterday.
The Rio Grande Valley in Portland and Rosemount in St Mary were among the affected areas.
The National Works Agency (NWA) was, however, working feverishly to clear blockages caused by landslides. Communications Manager at the NWA Stephen Shaw said the situation should return to normal on the weekend.
Shaw said access has been regained to most other areas across the parishes of St Thomas and St Andrew, which had also experienced flooding. "We are on those roads [now] carrying out works and we hope to regain access to these areas in short order," he stated.
Daryl Vaz, Member of Parliament for West Portland, one of the worst affected areas, yesterday made an urgent appeal for the public to donate relief supplies, including food, clothing and mattresses to assist those persons who have been seriously affected by flooding. He said items can be done dropped off at Food for the Poor at Ellerslie Pen in Spanish Town, St Catherine.
Vaz, meanwhile, expressed regret at the loss of property and said he was encouraging residents to be mindful of the fact that the Atlantic Hurricane season has not yet ended.
The MP said he has been coordinating relief assistance from the Philippines, where he has been on Government business, through fellow Cabinet ministers Karl Samuda, Shahine Robinson, and Desmond McKenzie. Vaz said he plans to tour the flooded areas when he returns to the island this weekend.
Flooding from heavy rains this week caused rivers in Portland and St Mary to overflow their banks and sent water into homes, cutting off entire communities.
On Thursday, the fire service was forced to carry out rescue activities in Spring Gardens, Portland, when the Spanish River overflowed its banks, while Canewood, St Margaret's Bay, Swift River, Berrydale, Fellowship, Windsor, Moore Town, Ginger House, Seaman's Valley and Comfort Castle experienced land slippages which led to extensive damage to farms and loss of livestock.
In St Mary, the Pencar River also overflowed its banks, washing out homes in Annotto Bay. Residents in areas such as Alleppo Heights, Flinch River Road and the Rock River were also cut off. The Enfield main road was flooded, while the Border to Cuffy Gully, and the Camberwell to Georges Hope corridors were blocked.