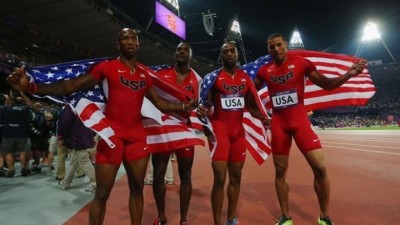 Huge news from the IOC broke on Wednesday as the entire U.S. men's 4x100m team was stripped of its silver medal from the 2012 London Olympics due to Tyson Gay's doping offense from 2013.
The United States Olympic Committee (USOC) learned of the IOC's decision after they received a letter notifying them that all members had been disqualified, with medals to be withdrawn. Gay had already returned his medal last year as a part of his doping suspension, which nullified any of his results going back to July of 2012.
The other members of the 2012 U.S. Olympic 4x100m team that have been disqualified are Justin Gatlin, Ryan Bailey, Trell Kimmons, Doc Patton, and Jeff Demps.
Kimmons, Gatlin, Gay, and Bailey ran in the final in London, recording an American record of 37.04 seconds. That time has now been wiped from the record books, so Team USA's 37.38 from two weeks ago at World Relays is now the official American record. Ironically, Gay was also a part of that relay, and we're Bailey and Gatlin.
With the U.S. now stripped of their medal, the silver will go to Trinidad and Tobago, with the bronze going to Team France.
We'll have more updates on this story as it develops. Information from an article in the Associated Press was used in this report.