The Australian Government deeply regrets the executions of Andrew Chan and Myuran Sukumaran.
The Government had hoped that Indonesia would show mercy to these young men, who have worked hard since their arrests to rehabilitate themselves and improve the lives of other prisoners.
They committed a serious crime.
Lengthy prison terms would have been an appropriate punishment.
In jail, Andrew Chan brought comfort and hope to others and Myuran Sukumaran shared his skills to give prisoners the chance of a better life.
Our thoughts and prayers are with Andrew Chan and Myuran Sukumaran's family and friends at this extremely difficult time.
Australia respects Indonesia's sovereignty, but deeply regrets that Indonesia could not extend the mercy it so often seeks for its own citizens.
We will withdraw our Ambassador for consultations once the men's bodies have been returned to the Chan and Sukumaran families.
Ministerial visits will remain suspended.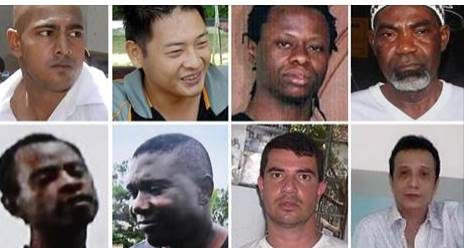 The bodies of executed Bali Nine members Myuran Sukumaran and Andrew Chan have arrived in Jakarta after being transported from Cilacap by ambulance.
Families of the pair are due to arrive in Jakarta by tomorrow morning, where they will meet at a Jakarta morgue to collect the bodies of Chan and Sukumaran before arranging repatriation to Australia.
The sad reunion would be the conclusion of a 10-hour convoy of morticians, diplomats and family members travelling from the Indonesian port of Cilacap to the Indonesian capital.
Family and friends were seen hugging in the doorway of their Cilacap hotel overnight before making the long journey to Jakarta.
Friends and family of the executed Bali Nine members depart their hotel in Cilicap, en route to Jakarta where repatriation arrangements are being made for the bodies. (9NEWS)
Friends and family of the executed Bali Nine members depart their hotel in Cilicap, en route to Jakarta where repatriation arrangements are being made for the bodies. (9NEWS)
Earlier, the lawyer who tipped off the Australian Federal Police to the Bali Nine's plans in an effort to prevent a family friend from committing a crime said the AFP could have prevented Sukumaran and Chan's "barbaric" deaths.
Bob Myers, a friend of Bali Nine member Scott Rush's father, said instead of detaining the group in Australia, the AFP chose to pass the information on to their Indonesian counterparts.
"In my view it should never, ever, ever have happened, and I think there were ways of preventing it over the last 10 years," he said.
The Australian pair was executed at 12.25am (3.25am AEST), along with six other death row inmates on the infamous "death island" Nusa Kambangan.
Local Catholic priest Charlie Burrows, who acted as spiritual adviser to Brazilian inmate Rodrigo Gularte, said none of the eight prisoners wore blindfolds as they faced their executioners.
Indonesian news source detik.com quoted Indonesian Attorney General Tony Spontana as saying the eight prisoners were "shot at 00.35 and died at 01.02″.
He did not elaborate if it took that long for the prisoners to die or if authorities took 27 minutes to verify that all eight men were dead.
Reporters and family members at Cilacap, the port town across the water from Nusa Kambangan, reported hearing bangs echo from the island.
Prayers were then said over the bodies before they were taken to a mortuary to be dressed and placed in a coffin.
Chan and Sukumaran's deaths bring 10 years of unsuccessful appeals to a close, including as last ditch bid to challenge the sentence at a constitutional level.
Foreign Minister Julie Bishop said at a media conference in Canberra that despite the Australian ambassador being withdrawn from Indonesia, all arrangements to repatriate the body would be honoured before the ambassador's departure.
"Our consular officials will arrange for the bodies to be repatriated to Australia and to ensure that they are treated with appropriate dignity," she said.
The consul general Majel Hind will formally identify the bodies.
Ms Hind, Chan and Sukumaran's lawyer Julian McMahon, and their spiritual guides Christie Buckingham and David Soper left the port shortly after the convoy of ambulances and police.
Australian politicians and mercy campaigners have condemned the execution and friends in Australia maintained their support for the pair, with vigils held across the country.
The I Stand For Mercy campaign organised a public vigil in Sydney's Martin Place and the #istandformnercy Twitter hashtag saw politicians, entertainment figures and people from all walks of life tweet their opposition to the death penalty.
"RIP Andrew Chan and Myuran Sukumaran – a tragic loss of human life on a very sad day," Federal Opposition Transport and Infrastructure spokesman Anthony Albanese tweeted.
Australian Foreign Minister Julie Bishop has warned of possible consequences against Indonesia following the executions.
Federal Opposition Leader Bill Shorten and his deputy Tanya Plibersek released a joint statement this morning, condemning the executions.
"Our best hopes have been dashed and our worst fears realised," the statement read.
"We extend our heartfelt condolences to all who mourn the loss of Andrew Chan and Myuran Sukumaran. A decade ago, these two young men made a dreadful mistake (and) by all accounts they spent every minute since seeking to mend their ways and steer others on the road to redemption.
"Proof the justice system could reforms wrongdoers, not just punish wrongdoing."
Labor has labelled the executions a "terrible crime" and called for an international renewal to rid the world of the death penalty.
"Indonesia's actions demand a strong response from the Australian government," the statement read.
"As a close friend and neighbour of Indonesia, Australia is deeply hurt that our pleas for mercy were ignored."
Earlier Australia joined with France and the European Union to issue a final plea for clemency to Indonesian President Joko Widodo.
A joint statement was issued by the three governments urging Mr Widodo to call off the planned executions of all seven detainees.
"It is not too late to change your mind," the statement read.
"Forgiveness and rehabilitation are fundamental to the Indonesian judicial system as well as in our system."
The statement urged Indonesia to consider its international reputation, reminding Mr Widodo of his country's efforts to have its own citizens released from death row in other countries.
"The execution will not give deterrent effect to drug trafficking or stop the other from becoming victims will abuse drugs," the statement read.
"To execute these prisoners now will not achieve anything."