Good day Met,
Please allow me to commend you on the wonderful job that you are doing, by creating this forum for the mass to express their opinions. Met, I am a faithful reader and blogger of your forum and I've seen where you and your fellow Metters have assist many through positive counseling. Now here I am seeking advice from anyone who will deliver.
Just a brief background, I was born and raised in the church…although sometimes on your forum my mouth knows no boundaries. I decided at a very young age to accomplished everything I need on my own…no man nuh give me what me have, me wuk fe everything mi own…mainly because I didn't want to diminished my character by using men for what I want out of life. Although it was a great struggle I can confidently say, I DID IT FOR MYSELF! Obeah I know exist. But I've never fooled around with it because God says "Mediums can defiled you." So I walked far and wide from such activities. But Met, there has been some things that has been occurring in my life…I'm trying my hardest not to believe people obeah me, but what's happening in my life, currently, Jah know, nobody cyaa tell me say "hand" nuh deh pon me.
I met my husband when we were children. We didn't get intimate til I was 32 years old, mainly, because I migrated at an early age and we didn't reconnect til years later. The attraction was still there so we decided to see where it leads. We had a child together 7 years later. He, however, has a child (first) by another woman who swore blind she is gonna stop at nothing to break us apart. But because of my Christian background I stand firm in my relationship. Met from I found out that I was pregnant, my husband mek ah 360…seems like a stranger in my eyes. Throughout my pregnancy I had so many complications, only God knows what I've been through. My child was born premature…doctors had to performed an emergency c-section to save both me and my child from a placental abruption.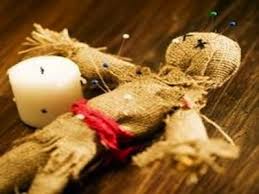 To cut a long story short, words got back to me that my husband baby mother put "hands" on me to kill us, my child and I. My so call mother-in-law hate me like poison…she is the "likky-likky"type so she prefers the first baby mother. But thank God we are here breathing…alive. From day one this baby mother has been a thorn in my side. I got fed up the other day and ended the relationship with my husband, because I don't feel as if I should compete for man's love. My husband now despises my child, who is the spitting image of him. Honestly, it beaks my heart but I had to let him go before I go insane. Not that this is a "big deal" but what advise can you or your Metters offer? Anything to ease my sorrow/pain because I do love this man.
P.S. There is a lot more to this story but this is all my heart can give me to share…