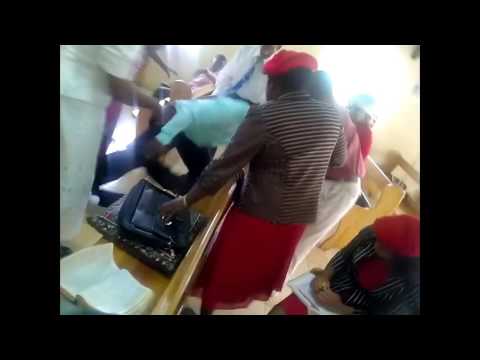 An 85-year-old man who was allegedly assaulted in church because he refused to obey the instructions of one of its leaders is planning to sue for damages as a result of injuries he received.
The man, Leslieus Mullings, was grabbed in his waistband and seemingly tossed aside by a member of the Mount Zion Church of God near Ewarton, St Catherine, because he was disturbing the service.
Mullings' son, Andrew, said the assault, which allegedly took place on September 24, began after the elder Mullings sat down while the pastor prayed.
"I reported the matter to the police and that is when they told me to ensure that he got medical attention as soon as possible. It was then that I brought him to the doctor, and after examining him she said that he had sustained a blunt trauma to the back, and that he should stay off his feet for as long as possible. She also gave us a prescription to fill," Andrew Mullings told THE STAR.
In addition to reporting the matter at the Ewarton Police Station, Andrew Mullings has retained a lawyer to help his father, Leslieus, get justice.
Posted on Youtube
The incident was captured via an amateur video and has been uploaded to YouTube.
"We are planning on going forward with the full force of the law, and I have already retained an attorney. It is a great matter of assault as stated by the police, and they are going to pursue the matter," Andrew Mullings said.
The video shows church members objecting to the senior Mullings as he attempted to speak. A male member left his position at the pulpit and forcefully laid hands on the elderly man.
"I am saying to you again … Take your things and leave," a church member, who identified himself as Nakon Cameron, said during the stand-off with Mullings.
Leslieus Mullings resisted attempts by Cameron to have him taken out of the church. At one point, he swung a right hook which appeared to have narrowly missed its mark.
During a brief struggle, the old man landed on his backside
on one of the wooden benches, and then on the floor.
"God, yuh see," the old man exclaimed.
Cameron, who appeared to have been kicked in the crotch by Mullings, then stepped over the hapless old man who was lying on the floor.
Cameron told THE STAR yesterday that Mulling was being "out of order" on the day in question.
"He was just being out of order, and I tried to take him outside," Cameron said.
"He punched at me and I removed my face. I held on to his hand and he pulled it away. They were holding on to him and were trying to get him out, but he thought everyone was trying to disrespect him. He is just always like that but that day he went on continuously," he added.
Went back to church
Meanwhile, Andrew Mullings said that his father, who has been attending the church for more than 20 years, went back to the church after the incident and was not made to feel welcome.
"The one time he returned to the church since the incident, he was not approached to pay offering. He went to put his offering in the bag and the pastor took it out and threw it back at him. He also paid his tithe in an envelope and discovered it was set aside in an envelope at the end of the day. He really loves his church and says he will not stop going," Mullings said.
But Cameron, who claims not to have any position in the church, said if that incident happened, it was never in his presence.