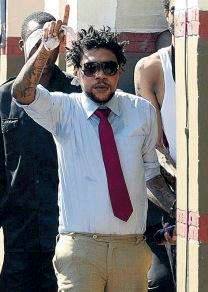 You made up the murder story, lawyer tells prosecution witness 1:02 PM
Police chief undaunted by calls for his resignation 12:56 PM
End modern day slavery, senior UN Diplomat urges 12:52 PM
twitter
Facebook Page YouTube™ Channel
KINGSTON, Jamaica — Defence attorney Tamika Harris in the Vybz Kartel murder trial Monday accused the key prosecution witness of making up the evidence against the entertainer and his four co-accused.
The accusation came as the lawyer pointed out to the witness that certain things he testified to in court were not placed in his initial statement to the police.
1/1
He however denied any suggestion of lying.
The lawyer also suggested to the witness that he did not see Clive 'Lizard' Williams at the house in Havendale where the alleged killing occurred, because he was outside taking Kartel to the hospital for a dog bite.
That suggestion was also strongly denied by the witness.
The witness concluded his day on the stand. The matter continues tomorrow.
Kartel and four others, entertainer Shawn Campbell, popularly known as Shawn Storm, André St John, Shane Williams and Kahira Jones are on trial for the 2011 murder of Williams.
Harris is representing St John.
–Paul Henry