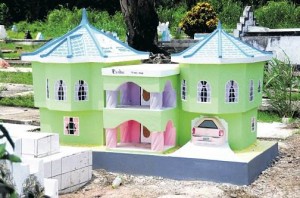 ANNOTTO Bay Cemetery in St Mary has become less of a morbid graveyard and more like an attraction as passers-by stop daily to take pictures and examine the 'designer graves' depicting the lifestyles that the deceased once lived or wanted to live.
From a fairytale castle to an aeroplane, the intricately designed tombs have given the cemetery a fanciful feel, and a well-needed facelift.
Conceptualiser of the breathtaking designs and proprietor of Exodus Funeral Home, Errol Green, said more and more people are requesting the service for their loved ones.
"I bury people according to their lifestyle. From the programmes to bookmarks, everything reflect the person's lifestyle and so I wanted the graves to reflect what the person used to be like or what they wanted to be like," Green said.
While he would not disclose what these tombs cost, Green said he tailors the designs to meet families' budgets. He added that the cost would be dependent on what a particular family is requesting.
He, however, explained that building a regular tomb, inclusive of a regular headstone, can cost over $100,000, while a granite tomb can cost up to $1million.
Green, whose funeral home is located in the heart of Annotto Bay, said the idea to make the graves fancy was born when he decided to put more dignity into the funeral business.
"After a person is deceased and you are going to bury that person that is the last you are doing for them. That is their final resting place, and so it must be looking good," he told the Jamaica Observer North East.
He added that he got the idea a year ago and built the first such grave — a fancy two-storey house, complete with an Escalade truck in the carport — for his mother who was buried some 15 years ago.
"When my mom died, I was not in the funeral business at the time and was not in a position to afford the type of funeral I would have liked for her, and so this tomb I gave her is the symbol of the kind of house I would love to give her if she were alive," he said.
Green explained that the licence plate on the artistic Escalade bears his mother's date of birth.
"My reason for putting that Escalade in the carport is because this is the type of vehicle I am driving now and what my mother would be driving around in if she was alive," he explained.
Green said he assembled a team of men who made similar type tombs and worked with them to step up the designs several notches. With space having to be taken into consideration, Green said it took a lot of effort to get the design to look as close as possible to a real house.
A week later when the artwork on the tomb was complete, Green said he began getting enquiries from interested persons and almost immediately, he and his team began working on what has been the most intricate design so far — a castle which was built for a teenaged girl who died in the United States and whose body was returned to Jamaica to be buried in the Annotto Bay cemetery.
"The mother came back to say she was uncomfortable living in her mansion and knowing that her daughter is just in a normal grave. The first thought was to make it in the shape of the vehicle the teen used to drive, but then she decided she wanted nothing less than a castle for her beautiful daughter," he explained.
The first task, he said, was to get a picture of the specific castle. That tomb, he said, took three weeks to build because of the details.
"The castle was also the hardest to build. The mother was there seeing it being built and so if she disagreed with something we had to change the design a bit to ensure it looked exactly like what she wanted and that is why it took so long," he said.
A year later, Green said he was contacted by another mother who saw the replica of the castle when she visited the grave of her adult son and wanted something just as fancy for him. Green said she did not have a specific design in mind and so he suggested building a house with a Jamaica Public Service metre on the outside since the deceased had worked with the light and power company for years.
Thereafter, the father of an 18-year-old approached Green to build a tomb in the design of an aeroplane for his son who had died in Canada.
"His desire was to be a pilot and we just wanted to keep that dream alive for him," Green said.
Building the plane, he said, was a bit challenging because of the desire to construct it in a take-off position.
Now, Green said the family intends to build a glass cage around the structure because of the many onlookers who go there to sit and take pictures.
"No tourist bus don't pass by the cemetery without stopping to take photos of the castle," he said.
The proprietor said he has been getting a lot of enquiries from people who are interested in getting similar designs for their loved ones, however, the cost sometimes act as a deterrent.
And as for getting permission to construct these elaborate designs in a public cemetery, Green said all that is required is to submit and pay for the plan at the parish council.
Out of respect for the dead, Green said his team often consults with the families of the deceased housed in neighbouring graves before hand to apologise for any inconvenience his construction may cause.