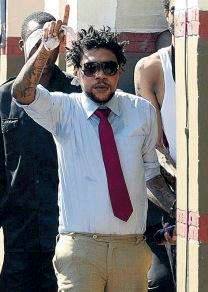 Blue suit, light blue inside shirt with a gold tie – a black and white handkerchief drapes the fingers of his right hand as a sweating dancehall star muscles up to open his unsworn statement from the prisoners' dock in Courtroom 2, at the Supreme Court in downtown Kingston. It has come to this. Sweat pours from his forehead in a courtroom that is always cold. The air conditioning unit is turned to about 20 degrees – cold by Jamaican standards.
Presiding Judge Lennox Campbell tells the court 'all of the accused will be made to state their defence'.
With that announcement the judge informs the court that he has thrown out the five no case submissions made by the defence attorneys. Tom Tavares Finson, one of Kartel's lawyers opens the case for the defence. He tells the court, Adidja Palmer will give an unsworn statement from the dock.
Kartel wipes his face on his hankie and breathes and then stands. This is his verbatim unsworn statement from the dock. Its 10:35 am, Wednesday, February 12, 2014. The court is silent, Kartel lacks force as he opens.
Good Morning My Lord and Good Morning to Madam Foreman and member of the jury. My name is name is Adidja Palmer
Judges intervenes and tells Kartel- you need to speak so all can hear what you have to say.
(Kartel continues now. He speaks louder)
Good Morning My Lord and Good Morning to Madam Foreman and member of the jury. My name is name is Adidja Palmer. (He spells his name now A-D-I-D-J-A)
I am 30 yrs old and I am INNOCENT ( he stresses this word) of all these charges brought against me. As a matter of fact I have never been to 7 Swallowfield Avenue and seen Clive Williams also known as Lizard there My Lord.
In fact My Lord, the only time I ever encountered this person My Lord is when he travels with Shawn Storm to stage shows. But we have never encountered My Lord at 7 Swallowfield Avenue.
(Kartel now clings to the rail of the prisoners' dock and continues)
The incident that occurred on the 30th of September 2011 was this. I was at a hotel in New Kingston when police entered My Lord. they put me and a female companion on the ground My Lord- handcuffed us and took us downstairs in the lobby. My Lord I was greeted with other police officers and members of the media who were already there My Lord.
After that I was taken to Central Kingston Police Station. The police then escorted me to my house in St. Andrew My Lord -Two houses as a matter of fact. One of then being the house on Swallowfield Avenue My Lord.
I was then taken to Portmore – to my mother's house where the house was searched My Lord and I was then moved to Spanish Town Road at the -MIT headquarters.
A few days later after a question and answer with Mr. Thompson My Lord who was at the time an Inspector, I was charged for murder of Clive Williams My Lord.
My Lord, after being at Gun court My Lord, it came over the news that a decomposed body was found at my Swallowfield residence My Lord which turned out to be a lie My Lord – Nothing of the sort was there.
In an effort to have my bail denied My Lord not only did police say My Lord that there was a decomposing body, but in a subsequent bail hearing My Lord the police said they found the blood of Clive Williams at 7 Swallowfield Avenue which also turned out to be not true My Lord. And for subsequent bail hearings, on more than one occasion after that my bail was denied My Lord because of allegations against me that always turned out to be not true My Lord
In the last bail hearing My Lord, in a bid to have my bail denied they said I was found with possession of 4 cellular phones. At that time I had to call on INDECOM to investigate this particular matter. And like all other allegations against me My Lord it turned out not to be true.
During course of my trial, I am of the view that someone or a group of persons are conspiring against my friends and I My Lord.
Even most recently the Minister of National Security, the Honourbale Peter Bunting took my music and my image My Lord to the state claiming that Vybz Kartel lyrics My Lord is glorifying stabbing My Lord. All this while I was still in custody awaiting trial. Even in Jamaica, at one time the Honourable Minister said he though four essential factors were 'mashing up Jamaica' My Lord – and I was one of them My Lord. If that is not prejudicial against my case – I don't know what is My Lord.
My Lord, I bleach my skin My Lord and I am heavily tattooed My Lord but that is merely superficial that is a part of the persona of Vybz Kartel and not Adidja Palmer.
My Lord, I am minded to say that even you would agree
Judge – who me?
Kartel continues – I think My Lord that someone can get judged because of the way they look in most circumstances.
I am not some alien form space. I am a normal human like everyone else. I even have a family some of whom are here today like grandparents, mother in law, cousins ….(he turns and points to his grandparents and family in the back of the court)
My Lord, my hands are clean of Clive Williams' blood if indeed Clive Willaims is decreased as I have never sent anyone to kill Clive Williams My Lord, nor did I do it myself My Lord. I am an innocent man My Lord. That is all I have to say My Lord.
Judge – please sit
I am INNOCENT – #KartelMurderTrial