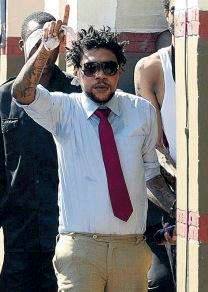 Latest: News
VYBZ KARTEL TRIAL: Co-accused cry, artiste wipes eyes in court
Published: Wednesday February 12, 2014 | 4:06 pm 0 Comments
Barbara Gayle, Justice Coordinator
Shane Williams and Andre St John, two of the men charged jointly with murder as well as entertainer, Vybz Kartel, were moved to tears this afternoon as they emphasised in their unsworn statements that they were innocent.
Earlier, Kartel was seeing wiping his eyes as his sister gave character evidence on his behalf.
Williams who was allegedly linked to the murder because of a voice on a video was moved to tears saying: "That is not my voice on the video."
Williams gave a very short statement proclaiming his innocence.
"I have never been to 7 Swallowfield Avenue," he said. "I am innocent and I don't even know why I am even here," he said.
The prosecution's main witness had identified the voice on the video to be that of Williams but the accused said he did not know the witness and had never seen him before or ever spoken to him.
The witness had admitted under cross-examination that he did not really talk to Williams but would join in conversations when Clive 'Lizard' Williams and the accused Williams were talking.
St John, a barber who is also called 'Madsuss' wept as he said he was a single parent.
He said the mother of his six-year-old daughter was killed in a motor vehicle accident.
"I am here today in this box speaking as an accused only to the fact of being associated with Vybz Kartel."
"I don't know where Clive 'Lizard' Williams is. I did not see him on August 16, 2011," St John said.
He said the prosecution's main witness came to the premises at 7 Swallowfield Avenue, Havendale on August 16, 2011 while he was on his way to his barber shop at 59B Mannings Hill Road.
He said the witness was unaware that the dog was loose and the dog attacked him.
"Vybz Kartel went to protect him, he got bit and I got hold of the dog and took him to the back of the premises and tied him up," St John said.
"When I returned to the front of the premises Vbyz Kartel and others were not in the yard", he said.
The accused said he then left for his barber shop where he also lived.
"I don't know of any plot or plan of this alleged murder whatsoever. It is all a plan. I don't know where Clive Williams is and I am an innocent man. That is all I have to say".
The Crown is alleging that Kartel, whose real name is Adidja Palmer; Williams; St John; entertainer Shawn Campbell, popularly known as Shawn Storm; and Kahira Jones, murdered Clive 'Lizard' Williams on August 16, 2011 at the Swallowfield property.