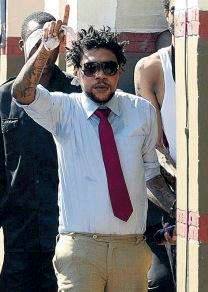 How has Vybz Kartel kept up his colour?
Friday, November 22, 2013
Print this page Email A Friend!
Dear Editor,
Let me start off by saying that I have no opinion regarding the guilt or innocence of the accused, Adidja "Vybz Kartel" Palmer regarding the killing of Clive "Lizard" Williams. This disclaimer is necessary given the penchant of his rabid supporters to attack persons who criticise him.
I am disturbed, though, that for his recent appearances in the Supreme Court, his face appears to be freshly "bleached". The "bleachers" featured not so long ago on All Angles, and the myriad Youtube videos suggest that to maintain the bleached complexion requires constant use of the various creams and substances.
Vybz Kartel has been imprisoned for nearly two years. Therefore, it is difficult to conceive of how he could sustain his "colouring" while in confinement. His original hue surely should have returned over this period (darker or otherwise).
Are the prison officials complicit in Palmer's access to these creams? What a picture of the state of the justice system where an accused could be supplied with bleaching creams while in the custody and care of the State. While ordinary Jamaicans continue to live in fear of rape, robbery, kidnapping, assault, and murder, prisoners are delivered luxuries (if bleaching creams can be called that) in lock-up.
Our fears and experiences have been reduced to another performance or the lines of another Vybz Kartel song, and almost sadistically, we still wait with bated breath for the next scene… a warden enters with another delivery of cake soaps.
Janene Laing