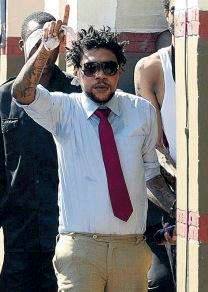 Kartel trial: Witness hits back as attorney attempts to discredit evidence
Wednesday, November 27, 2013 | 4:12 PM
Print this page Email A Friend!
KINGSTON, Jamaica — A defence attorney in the murder trial of entertainer Vybz Kartel on Wednesday sought to discredit damning evidence given by the prosecution's star witness on Tuesday.
"I put it to you that you were never in the house," attorney Tom Tavares-Finson told the witness. "That pit bull attacked you, and in a bid to protect you the dog bit Kartel. You did not enter the house."
"Were you there, sir?" the witness shot back curtly, causing laughter throughout the packed courtroom.
The exchange drew the intervention of presiding Judge Lennox Campbell who cautioned the witness.
On Tuesday the witness gave a damning account of what transpired at a house in Havendale, St Andrew, where Kartel and associates are suspected to have killed Clive 'Lizard' Williams on August 16, 2011.
The witness said that after arriving at the house with Williams he had to flee for his life after Williams was attacked.
-Karyl Walker
Read more: http://www.jamaicaobserver.com/news/Kartel-trial–Witness-hits-back-as-attorney-attempts-to-discredit-evidence#ixzz2lszkXVvP