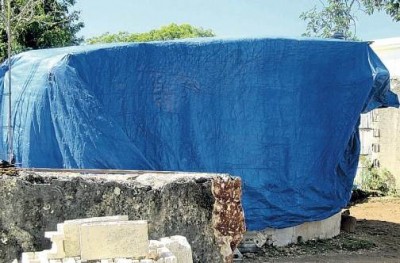 The house was covered with a tarpaulin during the recent heavy rains.
AMELDA Schlifer and her family, which includes her three sons and a nephew, will soon have a new home.
The family has Facebook users to thank after they responded to a post made on the social network that the family, which lives in a deplorable condition, needed help.
The family has called a one room dilapidated zinc structure in Orange Hill, Brown's Town, St Ann their home for many years, but was unable to do anything to change their situation because of poverty.
"Mi can't stop thank dem and it no finish yet," a happy Amelda Schlifer, 35, told the Jamaica Observer recently as four men worked busily on a new building that she expects to call home later this month, pending further assistance.
"Every day when they come dem say how mi a laugh so," she said, adding that she was happy for the assistance as she has been struggling for many years.
"When rain fall, in here wet up and mi have to put basin to ketch water," Schlifer said in reference to the challenges she faced in the room which was built by her father for her children and herself.
The mother of five added: "It rough, rough. Sometimes mi go out and people give mi little work."
According to her, she was praying and asking God for help but she never expected a house.
Schlifer, who often depends on the assistance of people to support her children, said that she received help from their fathers, but rarely.
Jamaica Labour Party councillor/caretaker for the Brown's Town division, Kim Brown Lawrence, who made the post on Facebook, said that there was nothing political about the assistance being given to the family.
She said that the concrete house being constructed was solely through donations from compassionate Facebook users.
Brown Lawrence, who is expected to represent the JLP in the local government elections due in March, said that she was doing house-to-house visits when she found out that the family needed help.
"I was doing house-to-house when I met Amelda Schlifer, otherwise known as Spider," Brown Lawrence said.
"When I came here I saw her son coming from under the cellar so I said, 'what is he doing there' and he said that's where he sleeps during the night," Brown Lawrence commented, a clear indication that help was needed urgently.
She then went to view the house where the children slept on the floor while their mother slept on a sponge.
"It was full of water; she had a milk can on the wood fire inside her home with one egg boiling," Brown Lawrence recalled, describing the situation as a picture of suffering.
"Nothing was here; she needed help. So far she has received three beds and a two-burner gas stove. We are currently building her brick house because this house is deplorable," Brown Lawrence said, disclosing that a tarpaulin was placed over the family's house while the new one was being constructed.
Nehemiah Virgo, Allan Walker, Christopher Virgo and Trevis Prichard all donated their time to build the house, the councillor/caretaker said.
"I received donations, nothing political, all Facebook people. We received donations from about 15 people on Facebook. I just shared their story and people have been helping so far.
"The children are currently not in school. We have a 10-year-old and a 12-year-old. They have not been in school for a while now. We would like to get them back in school no later than January and we want them to have a stable home," the aspiring politician said.
Brown Lawrence said that the house is expected to be finished by the end of January, pending further donations.
A tank which the family uses for water has also been repaired.
"This is nothing political. I have not received any funds from any political party. We just need help for them. This is a non-political project," she reiterated.
According to Brown-Lawrence, she often sees the mother and her children and would offer them things, but never knew that they were living in such a condition.
"Being able to assist is overwhelming because a lot of people put politics before humanity. Amelda 'Spider' has been here for years. Some people are saying how we haven't helped her or how comes we just seeing her; I have just been in politics for three months. I knew her from school days but did not know where she lives. Starting house-to-house I met her and now found out where she lives, found out her story."
Brown Lawrence said that she has put further house-to-house visits on hold as she works to assist the family.
"Humanity comes before politics. She needs help; her children need help. She needs a home; her children need to be in school," she said, insisting that she will be going all out to get further assistance for the family.
Making matters more complicated for Schlifer is taking care of her son who returned home recently after being in State care for years. The 18-year-old was reportedly sent home as soon as he reached adulthood. However, he is jobless and joins his siblings in depending on a mother who finds it challenging to work because of illness.
"Mi would need a job but mi can't manage to do anything hard because mi sick," Schlifer said.