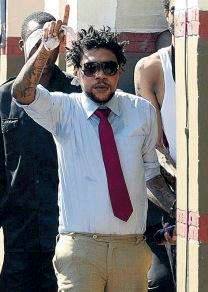 Kartel, Thompson and the panadol – #KartelMurderTrial
Posted on February 5, 2014 by emilycrooks
Defence attorneys completed cross examination of Detective Sergeant Patrick Linton in the Kartel and others murder trial. DSP Vernal Thompson therefore commenced giving his examination in chief. Lead prosecutor Jeremy Taylor marshalled the evidence. Here's my verbatim notes of his evidence.
———–
5th September, 2011- I got the hospital record from Andrews Hospital re Adijah Palmer and a dog bite on his left leg and got legal advice from the Director of Public Prosecutions which guided the investigation in search of:
(a) Adijah Palmer otherwise called Vybz Kartel
(b) Andre St John – otherwise called Mad suss
(c) Kahira Jones – otherwise called Ray Jones
Search was not on basis of warrant but on reasonable suspicion that these 3 persons were persons of interest who could have provided sufficient information to the police to secure evidence for the court. Based on certain information I received re Adijah Palmer, I initiated a stop order to ensure presence of these persons for interview with police.
Judge – when did you initiate the stop order
A- same day I initiated stop order not sure when it was executed
Taylor asked – what is a stop order
A- It monitors individuals leaving the island that police have an interest in
Q – Palmer alone?
A- no. All three at the two airports
Thompson- 29 Sept 2011 about 11pm rec'd certain info re Adijah Palmer's location. Same evening I also rec'd letter from Passport Immigration and Citizenship Agency, PICA that suspected deceased Clive Lloyd Williams otherwise called lizard has no travel history.
Based on info re Adija Palmer, I communicated with members of team especially flying squad and ACP Ealan Powell – gave certain instructions and awaited certain responses.
Sept 30. 2011 about 7am – rec'd info that Adijah Palmer, Andre St. John and other men were taken into police custody and that Palmer's premises were being searched. At about 2 pm, I was on my way to Flying Squad to speak to Adijah Palmer and Andre St. John when I rec'd certain additional info.
As a result of this, I immediately proceeded to 7 Swallowfield Ave. On arrival there, the metal gate was wide open. I entered premises and I walked around rear of premises and observed that entire rear of dwelling house was demolished – crushed into one heap with steel protruded out at different angles from remnants.
I tried to ascertain who or what caused the damage to this house and the reasons for this destruction but they were mainly of speculations. The progress of investigation took the format of a series of presentations in power point. This presentation took place over a number of tasking meetings at Central Intelligence Bureau HQ, South Tower, NCB
Judge – how many officers would take part in these meetings
A- approximately 15 officers, sometimes fewer – representatives from various groups
Presentations were treated on telephone, text messages, audio and video, forensics, electronics ,still images, call schedule analysis, cell site analysis which I happened to learn on those presentations.
Judge – how long have you been a police
A- 32 years
Judge – who was ranking officer in these meetings
A- Ealan Powell.
A number of recorded statements were also vetted and analysed. Based on info rec'd from presentations I continued my investigation.
Oct 13, 2011 – sometime in the afternoon, I was informed that Shawn Campbell otherwise called Shawn Storm and Kahira Jones were taken into police custody.
Q- after your rec'd that you…you did anything
A- I made arrangements to speak with both of them. I never saw it fit at the time for Campbell to be in custody and as a result, I caused him to be released on 14th October, 2011
Judge – that was your decision
A- yes sir after communication with a senior member
At time of his release, Campbell's daughter's mother, so called 'baby mother' was at station and I spoke to her and Campbell at my office. I must apologize for my use of Baby Mother – didn't mean it in a derogatory manner.
I spoke to Camille Chow. She's the sister of Lamar Chow otherwise called WEE. Camillle Chow is the baby mother of Shawn Campbell.

During the conversation, she gave me her number as 8445320. I spoke with Campbell and during conversation he gave me his number as 8837392 as also his home number 9883311. I told him that I will speak with him at a later date.
On 24th of October, 2011 sometime in afternoon appro 5pm based on the amount of information I was exposed to from series of presentation and recorded statement I decided to give the accused Adijah Palmer oc Vybz Kartel an opportunity to answer questions re allegations made against him as well as to comment against allegation made against him including questions re to the ownership of the house at 7 Swallowfield Ave, Havendale, St. Andrew.
Attorney representing Palmer, Michael Deans spoke with Palmer in the interview room at Grants Pen police station where Palmer was in custody. He was allowed to speak with Palmer privately outside the presence of police for about 10 mins.
Q- did you place time limit on Deans
A- no sir
Q-Do you see Mr. Palmer in court today
A-Yes. Sir. He is dressed in a suit looking smart (judge laughs)
We went inside interview room Detective Inspector Reynolds, Woman consatble Mendez, Michael Deans and I were all present. I cautioned the accused. Then told him that I am investigating the murder and disposal of body of Clive Lloyd Williams oc Lizard of a Portmore address and I wish to ask him some questions re this investigations.
The accused stared at me without responding. I showed him a clean sheet of ruled foolscap paper on which nothing was written and caused the words of caution to be written on it and invited the accused to sign. All done in presence of his attorney Michael Deans.
I asked the accused a total of 63 questions. At question no 33 I asked the accused if he was having a toothache.
Q- what was happening why you ask
A- I notice he was rubbing his jaw and he responded 'mi fi tek mi pill dem and mi fi tek dem two time'
As question no 47 was about to be asked, the accused requested a short break and also two panadol for his toothache. His request was granted. I supplied the panadol – I sent to the shop and buy them. Question session resumed and concluded some time after 6PM.
The accused made no comment for question. He answered none of the questions except where he was asked if he was having a toothache at 33 and 62 re how was he treated in interview and he responded 'Great'
Based on interview, I told him of offence murder of Clive Lloyd Williams and arrested him and charged him for same. I cautioned him and he made no statement.
Q- what did you say to him re murder
A- I said something like 'mi a go charge you fi did murder of Clive Williams oc Lizard even though his body has not been found'. He never responded.
Hear in the next blog DSP Thompson's account of Gaza Slim and the 'armed' Lizard
http://thecrooksofthematter.wordpress.com/