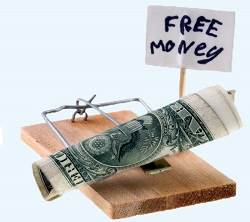 FUNERAL scamming may not be as pronounced as lotto scamming, but some community folks are becoming increasingly aware of crooks who go around and fleece grieving friends of the deceased, of thousands of dollars.
Among the sly ways of scraping money from victims is one that was used up to two weeks ago in St Mary, which raised over $20,000 for the conmen.
It sees so-called friends of a deceased person going around soliciting money to do various things in preparation for the burial, all the while giving the impression that they are assisting the bereaved family.
What seems to be the main area of emphasis is for the scammers to make their move collecting money to clear barrels purportedly shipped by friends and relatives of the deceased to help out with items for the wake and the repast, the Jamaica Observer was told by one of those who was tricked.
"A friend of ours from Islington (Central St Mary) died and a couple men whom we know were going around collecting money from her friends, telling them that two barrels were shipped from America and the family needed money to clear them at the wharf," one member of the community told the Sunday Observer.
Based upon an informal head count of those who were asked to contribute to the wharf fund and did, it appears that approximately $23,000 was collected to supposedly clear the two barrels.
And the matter is not a one-off issue. Since that incident was brought to the attention of the Sunday Observer, others who have been deceived have confirmed that they, too, were taken for a ride.
The same tale was related by family members of a deceased man in St Catherine.
"In that case, he got about $13,000 before the whistle was blown. He has now fled the community, but what a price to pay — $13,000 to sell your freedom and your dignity? That cannot be good," one family member said.
The trickster had apparently told people that he was collecting money to buy food and liquor for a grave digging activity which, based on current-day occurrences, is one of the latest crazes in the usually comprehensive exercise to bid loved ones farewell. It is now the norm for elaborate grave-digging to occur, with some locations — public cemeteries, or private burial sites — blaring with music from sound system speaker boxes, and food and liquor flowing smoother than the River Nile.
"It was one of those times when the funeral scammer started walking the community to collect money, but the member of our family who was responsible for the grave-digging was surprised when one of his friends told him that he had just given (name withheld) money that would go into a gravedigging 'fund'.
"That was a big shock, because the family did not plan anything that big in the form of a grave-digging. In fact, money was set aside for that, so there was no need for us to go on the road and beg money.
In any case, we didn't want a lot of people to turn out in the churchyard, because the family does not subscribe to that kind of vulgar celebration.
We really wanted something private and we even said that instead of asking some of the masons in the community to give their services and we would provide them with food and drink, we would just get one mason, he gets some workmen and we pay them," the family member said.
In yet another incident, liquor was taken on credit in the name of a member of a dead woman, by a man known to a grocery retailer, supposedly to be used at another wake, commonly known as 'dead yard', but did not reach the intended destination.
"The liquor was given out because the man who went to collect it said that it was for the dead yard.
The owner of the shop gave him the liquor because everybody knew and loved her (the deceased), and so once they called her name, he just gave the liquor," said a member of a community near the north coast tourist town of Ocho Rios.
The Sunday Observer tried without success to get a comment from Assistant Commissioner of Police Devon Watkiss. However, a police source, while stating that he was not familiar with any of the cases highlighted in this story, noted that such incidents were within the scope of unscrupulous people who would want to rip off people, notwithstanding the fact that they were mourning.
"We have some heartless people in Jamaica who don't give a damn if you have a family member to bury. In fact, we have seen in many of our police cases, that these criminals even appear to be rougher on those with soft hearts and suffering family tragedies, than people who are not," the senior officer said.