Seventeen years ago, just shy of her third birthday, a young girl gave the teachers at the Montessori school a scare as she swung and dangled from a Monkey Bar for minutes, ignoring all efforts to get her down.
The story is told of a somersault off a table in a doctor's office a few months later and several other early indications of what was to come.
Hardly a surprise then that the hyperactive toddler would grow to become a history-making gymnast who has spent her young life flipping, tumbling and twisting over, under and through challenges – whether it be her Kawasaki disease setbacks, the rheumatoid arthritis that she sometimes struggles with, or the other health issues that she has had to deal with from time to time.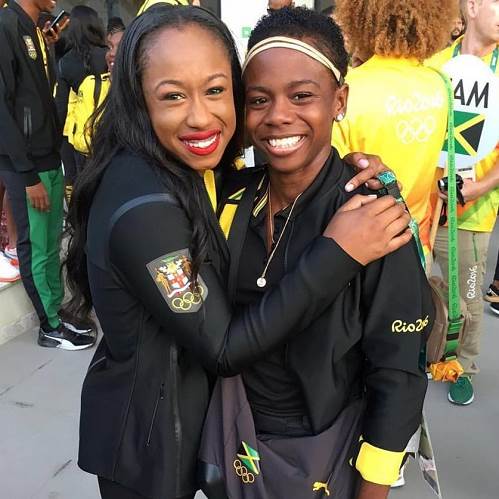 Fully grown and fully focused, Rio de Janeiro and the value of her participation here has become her 'Monkey Bar' as United States-born Jamaican gymnast Toni-Ann Williams gets set to make her most significant climb yet.
The hammer and chisel are out and her name will be added to the pages of history as the country's first ever Olympic competitor in gymnastics.
Williams is one of three Jamaicans who will today begin their campaign at the 2016 Olympic Games in the Brazilian city, with her 9:45 a.m. (7:45 a.m. Jamaica time)
artistic gymnastics competition preceding Alia Atkinson (100m breaststroke) and Timothy Wynter's (100m backstroke) appearances in the pool.
Atkinson has been a cocoon of concentration since her arrival in Rio de Janeiro, while Wynter is eager to make his first splash at this level. Both will be hunting spots in the final of their respective events; however, it's Williams who has first call, and as she went about her business as relaxed as ever yesterday afternoon inside the Olympic Village, her mother Marlene Hylton-Williams was a picture of emotions.
Toni-Ann's dream is also her dream and as she explains, it represents so much more for the sport's growth in Jamaica.
Nonetheless, when the 20-year-old steps off the mat inside the Rio Olympic Arena for the final time and looks up at the scoreboard, regardless of the result, Hylton-Williams is sure to have fond memories of that determined child.
Her message?
"Remember that you are already a winner. We have accomplished the goal. No matter what happens, we are behind you 110 per cent," Hylton-Williams managed, as she struggled to keep back her tears.
It was her insistence, and that of Toni-Ann's father, Toni, that kept the youngster in the discipline.
"A lot of different things went on when I was younger. I started gymnastics when I was nearly four years old, started competing when I was seven. When I first started, I hated it. My mom put me in all different types of sport, dancing, ice skating – I hated those," Williams shared.
"Gymnastics – she really likes to see me in the gym and it was something I thought I hated, but my parents insisted that I committed to it and they really pushed me and I'm really glad they did.
"I'm really excited to get out there and compete. I know that everyone has worked hard to get me here – myself, my parents, my coaches, the association (Jamaica Amateur Gymnastics Association), and everyone has pushed to see gymnastics get to where it's at now, and I hope this hard work will pay off. Hopefully, me being here will push the programme of gymnastics in Jamaica," said Williams, who was actually born in the US but decided to represent Jamaica at 15 years old after seeing the poor state of the gymnastics facilities during her trip to the island.
"That has been my whole focus since I started competing for Jamaica, just doing my best in the sport that I love and sharing that with other people," said Williams, who will see be competing in four apparatus – vault, bars, beam and floor routine apparatus.
"I got really emotional seeing her last night (Friday night) walking behind the Jamaican flag. I can't even explain. I don't know, it's too much. I don't know what I will do tomorrow (today)!" said Hylton-Williams.