Dear Taiwo,
I am unhappy and heartbroken; I need your help and those of your teeming readers. I am passing through a situation I cannot discuss with anyone. I tried discussing with one of my friends sometime ago, but her counsel and comments were not what I expected of her. She couldn't find anything wrong with my situation; she even advised that I should glorify God.
A lot of factors are militating against the decision I would have taken. The major and most terrifying is the fact that I am a product of a broken home and marriage. My mother suffered a great deal in my father's house, which eventually led to her leaving with my younger brother and I, she toiled day and night to make sure we went through school and to give us the best she could because ever since we left daddy's house he abandoned us and never had anything to do with us. I used to pity my mother, at a level she became aged and she had no life of her own, all what she thought about was how my brother and I would make it. To the glory of God, her efforts were not in vain as we made it.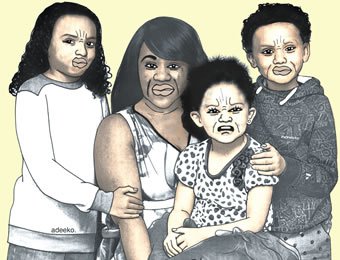 But now that she should six back and enjoy the fruits of her hard labour, mummy is either sick with this or that; I pray, however that she would live longer in good health to enjoy more.
I am being very careful to avoid all that my mother went through and also the fact that, I won't end up becoming a single mother like my mother.
I had a phobia for men, probably because of what I witnessed with my parents, especially the way daddy treated my mother, the bitterness, hate and cruelty, I almost became a man hater. Not that I didn't have admirers or men who wanted me, but I avoided this gender like leprosy, until my mother and some of her family members started raising hell about my single status. In essence, I married late. I married at 38.
I dated my husband for about 11years if I would add our university years with our courtship. He was the only man I agreed to date and a lot of people, even Sesan, my husband himself found it hard to believe that I remained a virgin until we got married.
Sesan was two years older than me and by the time we got married both of us were well established in our careers. Sesan had a job with one of the then fast growing new generation banks and by stroke of luck and posterity, I did my youth service at the NNPC and I was retained for employment. So this made both of us comfortable at the time we got married.
We were blessed with our first child in no time; because of my age, my second child followed exactly 18 months after my first. That was the way we both wanted it, since all we planned having was just two children. As the saying goes, man proposes, I became pregnant again when our second child was two years, I was delivered of a set of twins, but unfortunately, we lost one of them at birth.
Everything was okay, until Sesan lost his job during what I referred to as the apocalypse of the new generation banks. After which he couldn't retain another banking job for long. After few trials, he decided to go into business, but unfortunately, he was unable to sustain a business for long too. He tried his hands on so many things which did not work. In the process, he lost a lot of money; his own money; savings and a lot of mine too.
I really cannot say when Sesan started patronising juju men, as a result of which he was told that I am the reason for his predicaments. The first time he accused me verbally, I was shocked to my bone marrow, although he had been acting it. He started keeping late nights, sometimes he would not come home for nights and when I asked or inquire where he had been, he would quarrel with me.
On two occasions, he beat me black and blue that I landed in the hospital; those were the really bad ones. He would hit me at little or no provocation. My children, as small as they are, were not spared too. So the day he voiced this issue, I was shocked, I then realised why he had been behaving funny. God knows, I never wished him bad and wouldn't do such a thing but he didn't believe me. As if that was not enough, his mother and family joined too.
I came home from the office one evening and found that he had moved all his things out of our home; he probably would have sent my children and I packing if not for the fact that the house belonged to me.
We had to move into my own house when the bank took over his own house that he used as collateral to secure a loan.
He moved out even the furniture which belonged to him. The most shocking aspect was the fact that he moved into one of the flats in his mother's house. I was chased away like a leper when I in the company of some of my family members went to his mother's house to see him.
I made several attempts to correct things; I went to the extent of involving our pastors in the church but he and his family members insisted that I and my children should leave Sesan alone.
Eventually, I kept my distance, though painful, especially with my fears at the back of my mind. Few months after Sesan moved out, I learnt that he married his mother's friend's daughter, a young lady who just graduated from the university and I learnt that they were planning to relocate to US. I really didn't know what happened but he did not travel with his new wife again, I learnt the lady travelled alone. All the while, he didn't ask about his children talk less of being responsible for their up keep.
It is important to let you know that even when he married his new wife, we were still very much married. Some of my friends advised that I should press charges of bigamy against him, but my mother advised against it. Despite all my attempts at peace, Sesan and his people refused and rejected me and my children. They did not stop there, they also employed blackmail against my mother and I. When it came to this, I kept my peace and decided to move on with life. Late last year, I learnt that Sesan's mother was sick and that she's been sick for some months. She eventually died in November. My children and I were not invited for the burial. In fact, I found out all these after she had been buried.
I was however surprised when my pastor paid me a visit two weekends ago. His mission was to make peace between Sesan and I. I was surprised, because this was the last thing I was expecting. I had to ask my pastor if it was his idea or Sesan's. He explained that Sesan paid him a visit and asked that he should plead with me so that we can continue our live's together as husband and wife. I told my pastor to give me some time, as this wasn't a type of decision one makes in a hurry.
I told my mother and brother, but both of them were against my having anything to do with Sesan again. I was trying to plead his case when I later learnt that he is having problems with his step siblings in his mother's house where he is living. I also learnt that his supposed Americana wife married another man as soon as she got to the US.
I could plead his issue with my mother, my concern is; is Sesan actually after sincere reconciliation or he wants to come back to me because he has no choice. Is he a changed man as he claimed or would he continue where he stopped? I suffered a great deal in his hands. I have peace now that I am alone with my children. I am a witness to what incessant physical and psychological abuse did to my mother, yet I don't want to live the life of a single, bitter and miserable mother she lived. How would I know if Sesan is genuinely repentant or he only needs my children and I because he has no choice.