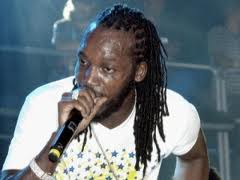 Movado's appeal to start today
Wednesday, October 16, 2013 | 7:21 AM
Print this page Email A Friend!
KINGSTON, Jamaica – Entertainer Mavado is to commence his appeal against his assault-related conviction and $100,000 fine in the Court of Appeal today.
The artiste, whose given name is David Brooks, was in May 2012 convicted in the Montego Bay Resident Magistrate's Court of assault occasioning actual bodily harm and malicious destruction of property, stemming from an incident on the Belmont main road in St James in July 2011.
He was fined $80,000 or six months on the assault charge and another $20,000 or six months for malicious destruction of property. Both sentences were to run concurrently.
According to the evidence, Brooks then drove up in a black Range Rover and told the complainant to move out of the way as he was not going to drive his vehicle over stones in the road, but the complainant refused.
The court heard then that the artiste used the wheel of his vehicle to squeeze the man between his car door and the car, causing swelling to his foot and a cut to his shoulder.
Read more: http://www.jamaicaobserver.com/news/Movado2013-10-16T05-25-25#ixzz2htlFhbRH