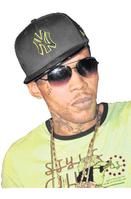 The jurors trying entertainer Vybz Kartel and his four co-accused have been called upon to consider the evidence and be true to their oath.
Jeremy Taylor, senior deputy director of public prosecutions, made the call as he addressed them yesterday in the Home Circuit Court.
Taylor ended his address with a verse from Psalm 37, which reads: "The Lord laughs at the wicked for He knows their day is coming."
In reviewing the evidence, Taylor described Kartel as arrogant, and emphasised that there was a supreme feature of arrogance in the case.
He said it was Kartel's arrogance which caused him to leave the text messages on the BlackBerry phone attributed to him "because 'World Boss' says nothing can happen to him".
TEXT EVIDENCE
He referred to messages on the phone in which Kartel was making attempts to leave the island.
Taylor said on August 19, 2011, three days after Clive 'Lizard' Williams was murdered, Kartel sent text messages that "between you and me a chop wi chop up de boy Lizard fine, fine and dash him weh and as long as you live dem will never find it".
He said one could identify Kartel's laugh and glee when he sent another message, "yes man, a mince meat dat".
Taylor then asked the jury to consider if the police conspired to send those text messages. He said one of Kartel's text messages stated that co-accused Shawn Storm would have to buy back the missing guns, but he had still given him a new gun, which he bought to "gwaan watch him".
Taylor asked the jury to reject the conspiracy theory of the defence and instead, find that the text messages were genuine. Taylor reminded the jury that the Crown's case was based on common design. He referred to the text messages that Lizard sent to his girlfriend while Shawn Storm was taking him and the prosecution's witness in a taxi to Kartel's house. Taylor read the messages in which Lizard was pleading with his girlfriend to call the police because he feared for his life.
BIGGER CROWD-PULLER THAN MANDELA
Attorney-at-law Michael Lorne, who is representing entertainer Shawn Storm, whose real name is Shawn Campbell, referred to a lecture that Kartel gave at the University of the West Indies (UWI) a few years ago. Lorne said a friend told him that Kartel drew more people than Mandela when he went to the UWI.
"Whether we like it or not, there is something phenomenal about Kartel," he said. Lorne referred to the video and said there was a man holding a pickaxe in that video and asked them to consider if that was an act of violence.
He told the jury that Taylor said that Shawn Storm betrayed Lizard and the prosecution's main witness, but they should not let Taylor pull the wool over their eyes.
Lorne reminded the jury that they could see the strain on the face of the witness when he was asked how he had gone to look for Shawn Storm the evening after the alleged incident if he felt he was trying to harm him.
"The beauty about this trial is that you are ordinary citizens and you understand the runnings and you can put common sense with what you hear in this courtroom," Lorne told the jury.
Lorne will continue his address on Monday as one of the jurors is unable to attend today.
Kartel, whose real name is Adidja Palmer, is charged jointly with Campbell, Kahiro Jones, Shane Williams, and André St John for the murder of Clive 'Lizard' Williams, who was allegedly beaten to death at Kartel's house on August 16, 2011, over two missing guns.