MEK WE CALL DIS ………TRACKBACK…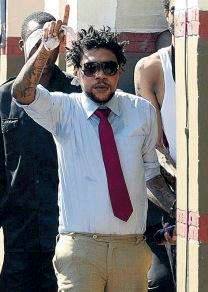 The Waterford police in St Catherine are still awaiting a formal report after the house of entertainer Blak Ryno's father was shot up yesterday.
It was revealed that about 1:30 p.m. gunmen walked up to the house which is located on Cascade Road. They brandished guns and fired on the house, no one was at home when the incident occurred.
"The police awaits a report on the matter to start a formal investigation in the matter," an investigator told THE WEEKEND STAR.
angered by the incident
Ryno, whose real name is Romaine Anderson, on Thursday came out publicly with the announcement that he was leaving the Vybz Kartel lead Portmore Empire. Ryno had been a member of the Empire since 2007.
The deejay had contacted THE WEEKEND STAR to state that he was was longer in the crew.
Following yesterday's shooting incident, Kartel was quoted in a release from his publicist, Raine Martin, as saying that he was angered by the incident.
"I condemn today's (Thursday) shooting in Waterford, and I condemn any attack made on Blak Ryno," Kartel is quoted as saying. "Regardless of what transpires between the Portmore Empire and Blak Ryno, whether or not he is a part of the Empire, I will not tolerate any acts of violence against him. Anybody who does anything to Ryno has to answer to me."

"No Wild Grain"
Kartel kartel dem just shell down round so
How much shot fire
Bout a thousand star
How much people dead
Nobody nuh dead
"Kissteeth"
[Chorus:]
Mi nuh guh pon bwoy endz
Go fire wild grains
No I could'ntdo it
One con one gone
Hmmmmm
One con one gone
Di boss ah spend money mi nuh've no shot fi waste
Buss it in ah face
One con one gone
Dem dead
One con one gone
Mi nuh fire(no)
Mi nuh fire wild shot (oh)
Mi nuh fire(no)
Mi nuh fire wild shot (oh)
Ah anyweh ah bwoy deh mi find that
No lose walking mi have ah pilot
Fi di gaza you know yuu fi stay out
Bwoy stand up pon di road and ah buss it from way out
When him gun empty out
Mi run down pon di bwoy as him fi drive out
Mi buss one inna him head blood spray out
Di bwoy drop "pah pah" two kick out
Brains marsh outta ground teeth lick out
When di k mek bwoy chest rip out rip out
[Chorus:]
Mi seh yea
Mi nuh guh pon bwoy endz
Go fire wild grains
No I could'ntdo it
One con one gone
Hmmmmm
One con one gone
Di boss ah spend money mi nuh've no shot fi waste
Buss it in ah face
One con one gone
Dem dead
One con one gone
Mi nuh fire(no)
Mi nuh fire wild shot (oh)
Mi nuh fire(no)
Mi nuh fire wild shot (oh)
Ah anyweh ah bwoy deh mi find that
No lose walking mi have ah pilot
Dem bwoy deh nuh know war
Shoot up ah ackee tree, murder ah car
Box down ah likkle girl at a bar
Ah duppy dem ah two nerd that ah par
Anyweh we go bwoy lay down pon di tar
Di block play ah riddim like drum and guiter
Watch yuh trail yo noweh no deh far
Mek di bloodclaat crime front page pon di star
[Chorus:]
Mi seh yea
Mi nuh guh pon bwoy endz
Go fire wild grains
No I could'ntdo it
One con one gone
Hmmmmm
One con one gone
Di boss ah spend money mi nuh've no shot fi waste
Buss it in ah face
One con one gone
Dem dead
One con one gone
Mi nuh fire(no)
Mi nuh fire wild shot (oh)
Mi nuh fire(no)
Mi nuh fire wild shot (oh)
Ah anyweh ah bwoy deh mi find that
No lose walking mi have ah pilot
Fi di gaza you know yhu fi stay out
Bwoy stand up pon di road and ah buss it from way out
When him gun empty out
Mi run down pon di bwoy as him fi drive out
Mi buss one inna him head blood spray out
Di bwoy drop "pah pah" two kick out
Brains marsh outta ground teeth lick out
When di k mek bwoy chest rip out rip out
[Chorus:]
Mi seh yea
Mi nuh guh pon bwoy endz
Go fire wild grains
No I could'ntdo it
One con one gone
Hmmmmm
One con one gone
Di boss ah spend money mi nuh've no shot fi waste
Buss it in ah face
One con one gone
Dem dead
One con one gone
Mi nuh fire
Mi nuh fire wild shot
****ALL MI GWINE SEH……..IS IF UNNO SEE WHA REALLY GWAAN………DI SONG IS A RYNO DIS……STAY CHOONED FI PART 2****
P.S HOW YUH FI CONDEMN SHOOTING AND DEN LIST OUT ALL WHEY YUH DO IN SONG…SEND MAN GO AND DI MAN DEM COME MEK REPORT………..STAY CHOONED