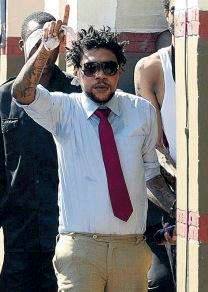 Before the trial began articles written here on JMG elaborated on the evidence the JCF had in their possession in regards to the Vybz Kartel murder trial . The evidence was said include video evidence, BlackBerry messages, Whatsapp, texts and recorded phone calls.
Sources closely linked to the case are confirming that the evidence presented so far to the court, specifically the text messages are only the tip of the ice-burg. Further evidence that will be presented to the court include video recordings that will not only further incriminate the suspects, sources say, " the evidence left to be presented by the prosecution will shake the very foundation of dancehall, Jamaica will come to standstill, the worst is yet to come". The source promised.
The trial when it began, saw a court-room that was not entirely quiet, but is now locked in silence, since the first slew of the text messages between Clive Lizard Williams and the defendants were read.
It is alleged that, not only were some of the suspects told to record the disposal of a body,sources are saying that when everything is presented, the public will see why these young men remained loyal to the dancehall artiste. Allegedly their loyalties were bound in video to be used as blackmail, should the need arise.
It is said that lawyers for the defense were not expecting the video and phone messages to be submitted to the court and as a result, allegations are that, the artiste had high hopes of performing on Sting's stage last December. Allegedly, the artiste requested a huge sum of money requested to be put in a hotel for a period of time as a part of his contract. A few days after his alleged contact, witness for the prosecution "Chow" had taken the stand and all hopes for an early release were dimmed. All contacts ceased and many of the people who had heard from the DJ before and during the first weeks of the trial, have not heard from him in weeks.