My Hands Are Clean' – Julian Robinson Raises The Bar By Releasing Integrity Filings
Faced with questions about his planned purchase of a multimillion-dollar house, Member of Parliament for South East St Andrew Julian Robinson has released details of the reports he has filed with the Integrity Commission, setting out his income and assets.
The Integrity Commission is the oversight body tasked with the responsibility of ensuring that public officials file annual reports disclosing their assets and liabilities.
Robinson, the second-term MP and deputy general secretary of the People's National Party, told The Sunday Gleaner that he decided to take the bold move to silence "innuendos and aspersions" about his capacity to purchase the multimillion-dollar property in Jacks Hill, upper St Andrew.
At a time when debate about the prime minister's Beverly Hills, St Andrew, residence, which he said has been constructed at a cost of a little more than $50 million, has resurfaced in the media, Robinson says when The Star contacted him, last Thursday, about a story it was doing on the $70-odd million property he was acquiring, his family supported his decision to go public with his assets and earnings.
The Proof
Robinson showed The Gleaner copies of reports he submitted to the Integrity Commission. The first report was submitted in December 2011, when he first entered representational politics, and the final one was filed in December 2015.
The MP pointed out that he holds joint assets and investments with his father, and also is the joint owner of properties with his father and siblings.
Based on his submission to the Integrity Commission last year, Robinson has assets and investments amounting to more than $150 million when joint investments with his father and assets owned jointly with his father and siblings are taken into consideration.
While that reflects an increase in his assets and investments from approximately $126 million when he first entered representational politics in 2011, Robinson pointed to two properties that were sold by the family during the four-year period.
The proceeds of two properties sold in Long Mountain and in Florida were invested in cash and bond holdings held by Robinson and his father.
He argued that the leak to the media about his plans to purchase the Jacks Hill property did not come as a surprise as he had already told his wife, when they were seeking to find a house, that this information could end up in the public domain.
"I don't have anything to hide; I have dealt with my personal life above board; if somebody is going to make an issue, which is in my view a call on my integrity, then I am going to be upfront and open about what my income and assets are.
"I feel it is important for my integrity, politics is not as important to me as my personal integrity – the reality out there is that persons who know me personally, and know me well and know my family, may not view it as an issue but the vast majority of people do not know me well, and the general assumption out there is that if you are in the process of acquiring property as a politician, it must mean you have done something illegal or nefarious to do it – it is sad but it is the perception out there in Jamaica."
Robinson noted that there was a low trust factor in Jamaica in relation to how politicians are perceived. He supported the suggestion that all parliamentarians should make their integrity reports available for public scrutiny.
The St Andrew South Eastern MP argued that he has worked hard with his family and made prudent investment decisions, but noted that even with the legitimate attempt to acquire a property "the innuendos and aspersions are associated with it, through no fault of mine – I have not broken any law so if this helps to restore public confidence, then yes, I think it should be done".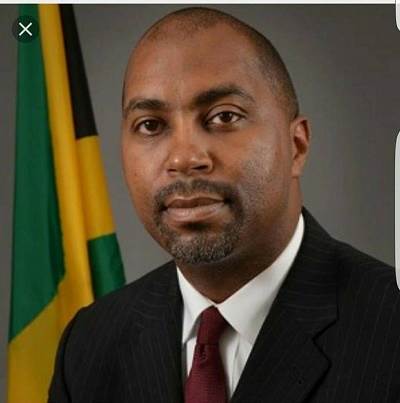 His Wife's Assets
Robinson argued that based on the assets and investments declared in his Integrity Report he was in a position to acquire the Jacks Hill property on his own. He added that his wife, who has submitted three separate reports to the Integrity Commission since they got married in 2013, was also in a position to purchase the house on her own.
Mariame McIntosh Robinson, who is the president of First Global, worked in venture capital and private equity in the United States for about 10 years. Before she worked in private equity she was employed to one of the largest consulting firms in the US. Before working at First Global she was a partner at Portland Private Equity, which is a venture capital and private equity firm.
"She did not give me authority to talk about her salary, but her average salary over that period on an annual basis has easily been more than US$250,000 to US$300,000 per annum.
"If you take me out of the equation in relation to this house, she could easily finance the purchasing of the house. She is in an industry where she earns significantly more than I."